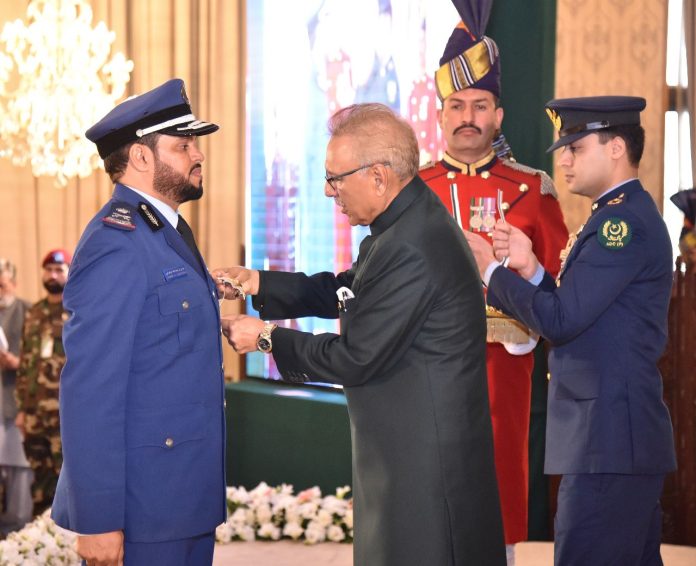 President Dr Arif Alvi conferring the award of Hilal-i-Imtiaz (Military) upon the Defense Attache of the Kingdom of Saudi Arabia in Pakistan, Major General (Pilot) Staff, Awad bin Abdullah Al-zahrani, at Aiwan-e-Sadr, Islamabad, on 24-03-2023.
:President Dr Arif Alvi on Friday conferred military awards on the serving and martyred armed forces personnel at a Pakistan Day investiture ceremony held here at the Aiwan-e-Sadr.
A total of 49 officers and soldiers of the Pakistan Army, Navy and Air Force received the military awards including the families of four martyred troops in the categories of Nishan-i-Imtiaz, Hilal-i-Imtiaz, and Sitara-i-Basalat. Two foreign dignitaries from friendly countries also received prestigious awards.
Commander of Bahrain National Guards Shaikh Mohammed Bin Salman Al-Khalifa was awarded Nishan-i-Imtiaz (military) and Defence Attache of Saudi Arabia Major General (Pilot) Staff Awad Bin Abdullah Alzahrani was given Hilal-i-Imtiaz (military) in recognition to their illustrious services of strengthening defence ties with Pakistan.