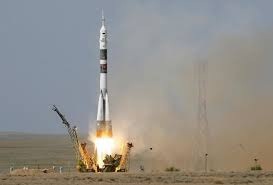 DUBAI: Saudi Arabia's locally made satellites "Shaheen Sat" was launched on Monday along with several others from 18 different countries aboard the Russian Soyuz rocket.
Shaheen Sat – one of the two satellites designed and made in Saudi Arabia – will be used for photography and maritime tracking purposes.
Among the 38 foreign satellites in total, the Soyuz rocket is carrying Dubai's environment nanosatand the "Challenge One", the first satellite fully-made in Tunisia.
The Challenge One – originally scheduled to launch on the Tunisia's Independence Day on March 20 – will focus on the "Internet of Things" and is a precursor to a constellation of 30 other satellites.
The rocket, which included satellites of Germany, South Korea, Japan, Canada, Italy and Brazil, lifted off from the Baikonur Cosmosdrome in Kazakhstan at 6:07 a.m. GMT.
The initial launch was originally scheduled for Saturday but was later postponed to Monday after a surge in voltage was detected.