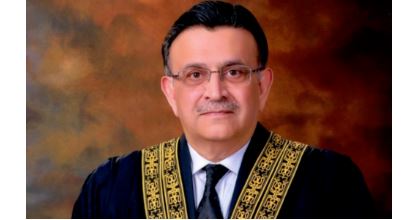 ISLAMABAD, JUN 3: The Supreme Court on Friday directed the federal government to bring the recent changes in the rules of the Exit Control List (ECL) within the "ambit of the law" within a week, cautioning that it would issue an order if its directive was not followed.
On April 22, the government introduced significant changes to the rules controlling citizens' exit from the country in an attempt to end the practice of keeping people on the no-fly list for years and even for over a decade, Interior Minister Rana Sanaullah had said.
A five-member bench, headed by Chief Justice of Pakistan (CJP) Umar Ata Bandial, and comprising Justice Ijazul Ahsan, Justice Munib Akhtar, Justice Sayyed Mazahar Ali Akbar Naqvi and Justice Mohammad Ali Mazhar, had taken suo motu notice on apprehensions that criminal justice might be undermined by people in authority.
In a written order issued earlier this week, the SC had observed that it appeared the amendments in the Exit From Pakistan (Control) Rules of 2010 had been enforced with retrospective effect.
"This appears to have been done without the authorisation necessary for giving such an effect to amendments in the rules," it had said.
When the hearing resumed today, Chief Justice Bandial said the government should take adequate steps to bring the amendments within the ambit of the law. "We do not want to interfere in executive powers right now."
At the start of the hearing, the CJP grilled Attorney General Ashtar Ausaf about the process to remove names from the ECL.
Ausaf said freedom of movement and to travel abroad were constitutional rights of every citizen and a person's name could not be put on the ECL simply because of ongoing investigations by the National Accountability Bureau (NAB) and the Federal Investigation Agency (FIA).
The federal government analyses a person's right to freedom of movement and the allegations levelled against him before putting his name on the ECL, he informed the court.
"The government amended the ECL rules after fulfilling all legal aspects. The cabinet has written that the amendments will be applied retroactively. Amendment of ECL Rules is at the discretion of the federal government."
He told the court that cabinet members' names were removed from the ECL so the government could function smoothly. "There is no law that states discussion with NAB is necessary for removing the names."