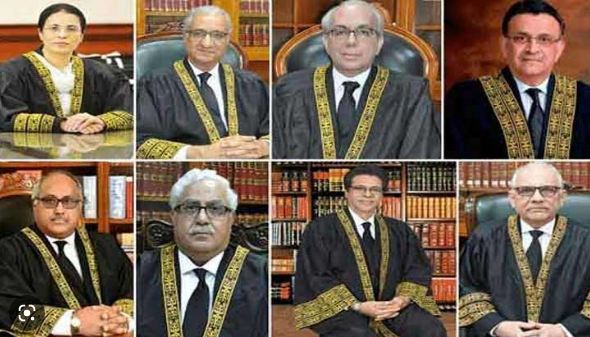 ISLAMABAD: Supreme Court (SC) on Tuesday sought the parliamentary record of the Supreme Court (Practice and Procedure Bill) 2023.
The Supreme Court (Practice and Procedure) Bill 2023, which is aimed at regulating the powers of the CJP, was approved by the Parliament during a joint sitting on April 10.
An 8-member bench headed by Chief Justice Umar Ata Bandial, comprising Justice Munib Akhtar, Justice Muhammad Ali Mazhar, Justice Syed Hasan Azhar Rizvi, Justice Ijaz ul Ahsan, Justice Sayyed Mazahar Ali Akbar Naqvi, Justice Ayesha A Malik, and Justice Shahid Waheed, heard the plea against the Supreme Court (Practice and Procedure Bill).
Unmute
Pakistan Muslim League-Nawaz appointed Barrister Salahuddin and Pakistan People's Party hired Farooq H Naek for the case, while Hassan Raza Pasha appeared before the SC to represent Pakistan Bar Council.
At the outset of the hearing, CJP Bandial remarked that the case they are hearing is of a 'different' type. We have constituted a larger bench to hear the matter in a transparent way, the CJP added.
Read more: SC law clipping CJP's suo moto powers challenged
CJP further said that the independent judiciary and federation are important components of the constitution. "Independence of judiciary is a basic right."
The SC summoned Parliamentary record regarding the Supreme Court (Practice and Procedure Bill) along with the minutes of the discussion in the standing committee.
SC also directed all parties in the case to submit written arguments in the case. The hearing has been adjourned till May 8.
The bill
The passed bill – the Supreme Court (Practice and Procedure) Bill, 2023 – aims at giving the power of taking suo motu notice to a three-member committee comprising senior judges including Chief Justice. It also aims to have transparent proceedings in the apex court and includes the right to appeal.
Regarding the constitution of benches, the bill states that every cause, matter or appeal before the apex court would be heard and disposed of by a bench constituted by a committee comprising the CJP and the two senior-most judges. It added that the decisions of the committee would be taken by a majority.
Read more: NA notifies law clipping CJP's suo motu powers
Regarding exercising the apex court's original jurisdiction, the bill said that any matter invoking the use of Article 184(3) would first be placed before the above mentioned committee.
The bill says that if the committee is of the view that a question of public importance with reference to the enforcement of any of the fundamental rights conferred by Chapter I of Part II of the Constitution is involved, it shall constitute a bench comprising not less than three judges of the Supreme Court of Pakistan which may also include the members of the committee, for adjudication of the matter.
The bill additionally said that a party would have the right to appoint its counsel of choice for filing a review application under Article 188 of the Constitution.