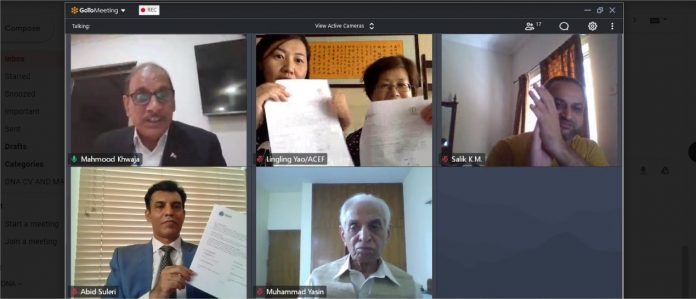 DNA
Islamabad: JUNE 24 – All-China Environment Federation (ACEF) and Sustainable development Policy Institute (SDPI) have joined hands to explore the avenues of collaboration and cooperation as joint research activities in the areas of mutual interests of both the organizations.
Ms XIE Yuhong, Secretary General, ACEF and Dr Abid Suleri, Executive Director, SDPI in this regard signed a memorandum of understanding (MoU) online on behalf of their respective organizations on Tuesday. Ms Lingling Yao and Dr Mahmood A. Khwaja have been nominated as the respective Focal Persons, for ACEF and SDPI, respectively.
Earlier, Mr Wang Jiajia, Director, ACEF Department of Public Interest Activities & Program, visited SDPI, with ACEF-GPEA team in the year 2019. The follow-up online meeting between the representatives of the two organizations to identify the areas of research and to share mutual learning was held during the month of May 2020. .
The ACEF-SDPI MoU aims to establish knowledge partnership, to conduct research jointly, policy analysis, capacity-building, and outreach. The MoU also signifies the mutual desire for the launch of new research, trainings and regional integration initiatives.
In addition to other mutually agreed upon by ACEF & SDPI, both organizations have agreed to collaborate and cooperate in the areas including research, the development of joint research proposals, activities and publications, sharing info/research data and other research resources and capacity Building including training courses, study tours, and joint leadership events.
Moreover, the areas such as holding seminars, conferences, workshops, and meetings, developing a sustainable quality assurance/monitoring and evaluation frameworks in joint research work, outreach and networking with stakeholders, ACEF – SDPI researchers exchange and interns/internships, strategic and knowledge partnership towards hosting Annual Sustainable Development Conference (SDC) and other conferences, as agreed, in Pakistan and China and sharing best practices/case study communications are also part of the mutual understanding.
Some of the broad priority thematic areas include enterprise/industry matchmaking and interaction as well as experience sharing on green technology, CSR and environmental risk management. Besides, local communities' sustainable development, people to people communication & understanding, policy communication and CSO capacity building are also identified as the area of mutual interest.
Presently, SDPI preferred thematic areas that have been shared with ACEF include CPEC, special economic zones; sustainable industrial development; socio-cultural impacts of CPEC, infrastructural and energy projects; environmental impact assessment; food security; agriculture and economic growth.