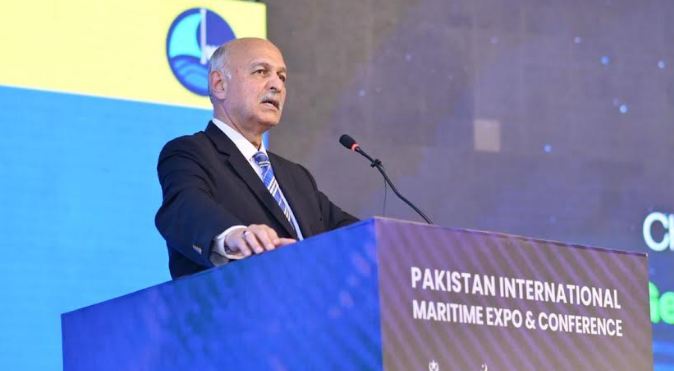 Calls for course correction on economic development
KARACHI, FEB 12 /DNA/ – While chairing two sessions of Pakistan International Maritime Expo & Conference (PIMEC) 2023, Senator Mushahid Hussain, Chairman of Senate Defence Committee, proposed a 5-point Action Plan to promote Blue Economy.
He said apart from Blue Economy, marine and mineral resources plus CPEC and building on a strategic partnership between Pakistan, China and Saudi Arabia would be a catalyst for an alternative development approach that can help 'bid goodbye to IMF'.
The Chief of Naval Staff, Admiral Amjad Khan Niazi, Vice Chief of Naval Staff, Vice Admiral Faisal Rasul Lodhi and other senior officers of Pakistan Navy plus representatives of 50 countries, participating in PIMEC, were also present.
Outlining his presentation, Senator Mushahid Hussain said that 'it's now clear that Pakistan is on the wrong development path, abdicating it's autonomy of action and only increasing permanent dependency on the IMF, since economic independence is the material basis of political independence'. He added 'what kind of economic strategy is this that we seek loans to return loans, while burdening our own people with more taxes and grinding inflation'.
He emphasized that a 'course correction on economic development strategy of Pakistan' is urgently needed for the sake of the people of Pakistan. He said the answer is to focus on exploring and exploiting marine resources by a strategy for Blue Economy, which, according to the World Bank, has resources worth at least $ 100 billion.
He added that 50,000 square kilometers were added to Pakistan's continental shelf as an exclusive economic zone in 2015, a huge mass of water, almost like a 5th province. Added to this maritime economy is the immense mineral wealth, huge reserves of natural gas and 175 billion tons of coal in Thar, all of which cumulatively add up to a hidden wealth of almost a $ 1 trillion (one trillion dollars), that has not been tapped at all due to an absence of policy on these areas.
Senator Mushahid Hussain then called for developing an alternative economic developmental strategy through a 5-point Action Plan. First, the government should immediately establish a National Authority for Blue Economy (NABE), to prepare a comprehensive strategy that involves Pakistan Navy, the Ministry of Maritime Affairs and the private sector as principal stakeholders.
Second, the Ministry of Maritime Affairs should have a Secretary, who is from Pakistan Navy, like the Ministry of Defence has a Secretary from Pakistan Army. That will make the Ministry of Maritime Affairs a proactive and pivotal player on the Blue Economy. Third, a special non-governmental Task Force be established comprising experts, academics, think tanks and relevant private sector for devising a Work Plan in 2023 for promoting awareness about Blue Economy amongst opinion leaders and relevant stakeholders.
Fourth, as part of alternative economic development strategy for Pakistan, develop a linkage between Blue Economy, marine and mineral resources, CPEC, TAPI and developing triangular relationship between Pakistan, China and Saudi Arabia, so that Energy Security becomes a key pillar of Blue Economy framework.
Fifth, media mobilization is a force multiplier for promoting Blue Economy and in this regard, Media Workshops be organised in Gwadar, Ormara, Keti Bandar and Karachi, so that 'sea blindness' ends with an awareness of the future potential of Blue Economy.
Senator Mushahid Hussain concluded that adoption of this blueprint for the Blue Economy 'would help Pakistan stand on its own feet and bid goodbye to the IMF. We have gone to the IMF for 23 times in 60 years and this is a tried, tested and failed formula'.=DNA
=========