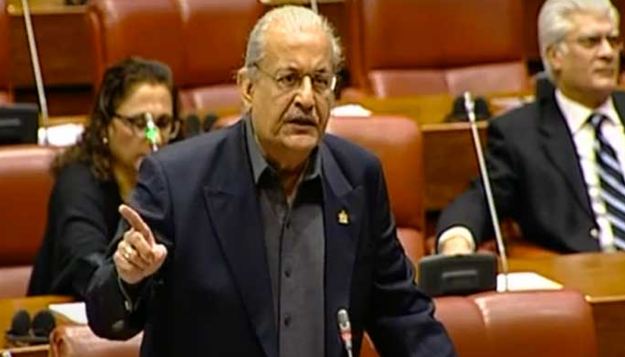 ISLAMABAD, FEB 14: Senator Raza Rabbani Tuesday censured newly-appointed Attorney General of Pakistan (AGP) Barrister Shehzad Ata Elahi for clarifying Chief Justice Umar Ata Bandial's "honest prime minister" remarks in a letter to Law Minister Azam Nazir Tarar.
Following an uproar in the Senate's session after the CJP's remarks last week, AGP Elahi had said that the chief justice did not give any remarks on the honesty of the country's prime ministers, adding that the observation regarding the CJP's remarks was "incorrect".
The attorney general also asked that the federal law minister share "correct facts" in this regard with fellow parliamentarians for setting the record straight.
Furthermore, he spoke about being present in the court during the hearing and can confirm that no such remark was made by the apex court's top judge.
Rabbani, during today's Senate meeting, said that if the AGP is so supportive of the parliament and judiciary, then he must also "defend the parliament when it is attacked by the court".
"The attorney general cannot speak for the parliament. A letter should be written to him on this matter," the senator said protesting against the AGP's letter during a session chaired by Senate Chairman Sadiq Sanjrani.
Meanwhile, Law Minister Tarar also shared his views on the AGP defending the top judge's remarks.
"The attorney general clarified that he was present in the Supreme Court and that the chief justice did not make those remarks. The comments were misconstrued on social media," Senator Tarar said, sharing that the AGP's letter is with him as an entrusted possession.
Following the discussion on AGP's letter, the Senate's session was adjourned indefinitely.
Justice Bandial's remarks came during the hearing of former prime minister and Pakistan Tehreek-e-Insaf Chairman Imran Khan's petition challenging amendments to the National Accountability (NAB) Ordinance by the incumbent government.
"Only one prime minister has come in Pakistan's history who was considered most honest. One honest prime minister's government was ended through 58 (2b). Article 58 (2b) was a draconian law. The court had said in 1993 that the government was [sent packing] in the wrong manner but only elections should be conducted now," the top Supreme Court judge was quoted as saying.
The comments drew ire from senators in last week's session during which Pakistan Muslim League-Nawaz (PML-N) Senator Irfan Ul Haque Siddiqui raised his concerns.
"The chief justice called only one prime minister honest, who is probably Muhammad Khan Junejo. Who gave him the merit to declare everyone from Liaquat Ali Khan to Imran Khan dishonest," Siddiqui said.