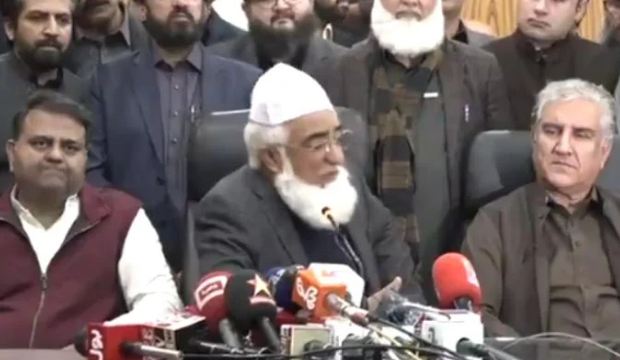 In a setback to the Pakistan Muslim League Nawaz (PML-N), the party's central leader Pir Muhammad Aminul Hasnat Shah Saturday joined the Pakistan Tehreek-e-Insaaf (PTI).
Flanked by Senior Vice-President Fawad Chaudhry, PTI Vice-Chairman Shah Mahmood Qureshi, and PTI Secretary General Asad Umar, Hasnat made the announcement of joining PTI during a press conference.
During the conference in Sargodha, while explaining the reason for switching to PTI, Hasnat rather cryptically said, "as time passes, new information comes to light."
He then thanked the PTI senior leaders, especially, Qureshi whom he referred to as a "leader" in his family while lavishing heavy praise on him. Hasnat also prayed that he continues to have good experiences in politics.
While addressing the press conference, Quershi also praised Hasnat's experience as a politician and his stature as a spiritual leader.
The PTI senior said that he had a "long-standing spiritual relationship" with Hasnat, and his joining PTI would make the party stronger in Sargodha. Moreover, Chaudhry too spoke at the occasion, expressing gratitude to Hasnat for his decision. The former minister claimed that Hasnat and his family have great influence in Sargodha, Rawalpindi Division, and various other parts of the country.
Chaudhry, along with Umar, expressed great adoration for PTI Chairman Imran Khan, hailing him as a "true Muslim" and greatest devote. "There is no one who is more devoted than Khan."
They both also reiterated that the joining of the PML-N's central leader to PTI was very important for the party.
These developments come soon after the dissolution of the Punjab Assembly. With the by-elections to be held within 90 days of the dissolution, the addition of a strong PML-N member who is also a religious leader is likely to boost PTI's endeavours for the by-election.
Previously, talking to a private TV channel late on January 13, Interior Minister Rana Sanaullah said that the PML-N was prepared for polls in Punjab within 90 days and claimed that the party would succeed in the provincial assembly elections.
It must be noted that Hasnat was elected Member of the National Assembly (MNA) from Constituency NA-64 Sargodha, and has served as part of the cabinets during the premiership of both Nawaz Sharif and Shahid Khaqan Abbasi.