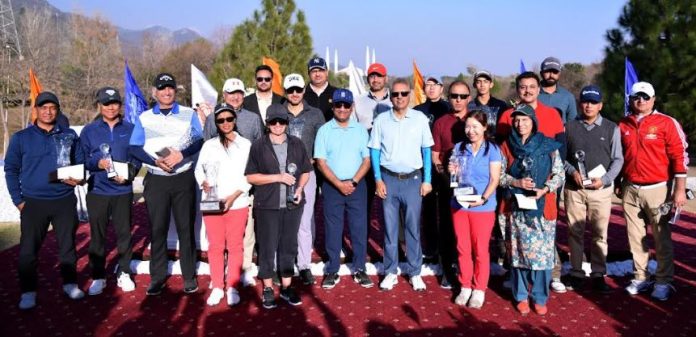 DNA
ISLAMABAD: Serena Hotels hosted its annual Invitational Golf Tournament in collaboration with Margalla Greens Golf Club, under the Sports Diplomacy Initiative,on the 4th of February 2023. The Categories included Diplomatic, Government & Armed Forces, Corporate and Women. The weather was ideal for the golfers who thoroughly enjoyed the game under sunny weather. The event started with a lavish breakfast followed by the tee off.  The players displayed amazing skill and technique in all categories, a total of 120 golfers participated, including 12 seasoned women golfers. 
Dr. Arif Alvi, President of Pakistan, graced the occasion as the guest of honor and also participated in the tournament along with the Chief of NavalStaff, Admiral M Amjad Khan Niazi NI(M) S Bt prominent members of the community including ambassadors, the business sector, honorable members of the armed forces, bureaucrats and corporate sector.
The golfers competed on the golf course under four different categories. Serena Hotels honored the winners of the competition with prizes that included stays in the Heritage properties and other Serena Hotels properties across Pakistan.
Addressing the closing ceremony the president emphasized the need to promote healthy and nature-based activities in the country. He said the game of golf brings man closer to nature, exercise and physical activity is essential for human health.
The President Dr. Arif Alvi lauded Serena Hotels management, on organizing the successful tournament and their continuous effort in promoting tourism and a softer image of Pakistan via engaging national and international communities.
Aziz Boolani informed the participants about his hotel's sports diplomacy initiative for the promotion of sports in Pakistan, especially golf. The president of Pakistan dr. Arif Alvi appreciated the sports diplomacy initiative of the hotel for conducting a successful golf tournament in Islamabad.
The event culminated with a glorious prize distribution ceremony followed by an exquisite spread for guests and participants.