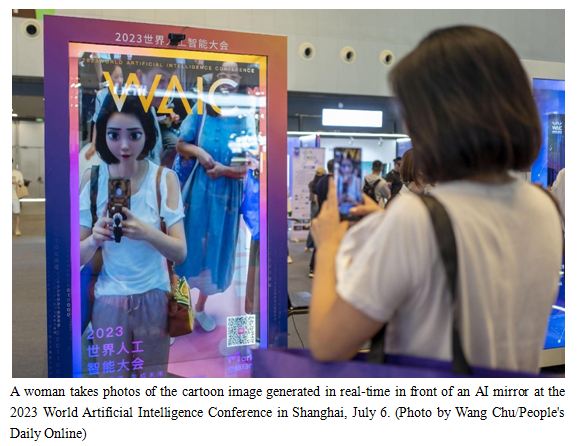 By Liu Shi'an, Xie Weiqun, Shen Wenmin, People's Daily
Shanghai-based tech firm Deemos, a startup offering digital identity in the metaverse, attended the 2022 World Artificial Intelligence Conference (WAIC) with its technology that builds digital avatars upon the scanning by panoramic cameras.
This year, it went further and brought to the 2023 WAIC a text-to-3D avatar technology, which uses artificial intelligence (AI) and text guidance to generate animatable 3D faces that can be customized based on user preferences.
Themed "Intelligent Connectivity Generating Future," the 2023 WAIC was held in Shanghai from July 6 to 8. Both the number of exhibitors and its exhibition area hit record highs. A batch of AI technologies and products developed by Shanghai companies were exhibited, showcasing the latest AI achievements.
Shanghai is one of the earliest cities in China to develop the AI industry. Over recent years, the city has made continuous efforts to build relevant application scenarios, improving AI ecology and fostering talents.
As a result, the AI industry is developing vibrantly in Shanghai. The number of AI enterprises above the designated size, or companies with annual revenue from principal business of 20 million yuan ($2.77 million), jumped from 183 in 2018 to 348 last year, with the total output value from 134 billion yuan to 382.1 billion yuan during the same period.
"AI technologies are evolving globally, leading to a new trend in the AI industry and catalyzing industrial reforms," said Wu Jincheng, director of the Shanghai Municipal Commission of Economy and Informatization. He said Shanghai is working actively to foster new growth drivers with AI technologies.
On a river surrounding the Zhangjiang Artificial Intelligence Island in Shanghai's Pudong New Area, unmanned boats are always seen carrying tourists. After such boats are put into use in more scenic areas in the future, people could board the boat by simply placing an order on their mobile phones.
The AI+ Marine Technology Innovation Center, an innovation platform jointly launched by Shanghai Ocean University and electronics manufacturing giant INESA, built an AI application scenario in the waters of the Zhangjiang Artificial Intelligence Island. A Beijing-based company has successfully developed an unmanned surface boat in the pilot area, which is able to automatically navigate, avoid barriers and dock.
At the previous five sessions of the WAIC, 58 major AI application scenarios were unveiled by Shanghai enterprises in three batches, which effectively promoted the development of the AI industry.
Over recent years, a series of innovation organizations have been built in Shanghai, including the Shanghai AI Laboratory, the Shanghai Data Exchange and the Baiyulan Open AI. The city has established four clusters of AI enterprises, launching a batch of open AI systems and producing a number of intelligent chips.
Besides, Shanghai has put into trial operation a new-gen AI computing platform and unveiled China's first AI public computing platform.
To create a sound industrial environment for AI developers, Shanghai issued regulations aiming at promoting AI development. The city also implemented an action plan for AI intelligent computing innovation and a local standard for AI technology.
As a pilot zone for AI innovation and application, Pudong New Area is home to over 600 key AI companies that boast a total output value of more than 120 billion yuan.
The Global AI Developer Conference has been hosted in the Lingang Special Area of Shanghai's Pilot Free Trade Zone for four consecutive years. An international algorithm innovation center and an innovation center for smart robot manufacturing were inaugurated in the area.
Shanghai will consolidate its foundation of the AI industry, strengthen the development of multimodal and large models, enhance its competitiveness in new fields such as intelligent content creation and scientific intelligence, build the ecology for independent intelligent computing and improve international cooperation on the AI industry.