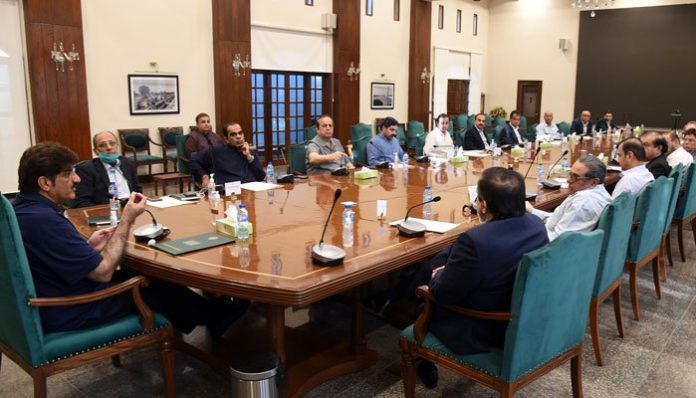 KARACHI: Amid pressure from the businessmen, the Sindh government has agreed to consider the lifting of lockdown on industries in a meeting today after it was cognised about the significance of meeting export orders and imminent danger of financial constraints in defraying wages and salaries, according to a report published in The News.
Prominent industrialists called on Chief Minister Sindh Murad Ali Shah on Saturday and proposed opening of export-oriented industries.
Shah agreed that government revenues depleted due to the lockdown of industries and customs.
"Lockdown would continue till April 14, and if the masses observe this lockdown in letter and spirit, the government might be able to open up gradually," he said.
Pakistan Apparel Forum Chief Coordinator and Karachi Industrial Forum Chairman Jawed Bilwani said the meeting was proposed that export-oriented industry should be opened to honour the orders. "We told the chief minister the food industry is operating and there have been no complaints. Similarly, the export sector having better safety compliance standards may also be allowed to open."
Read also: Pakistan walking a 'tightrope' to ensure balance between lockdown and economy: PM
Bilwani told the publication that the chief minister was quite receptive and assured that the proposal would be taken up in their meeting on Sunday.
Businessmen Group Chairman Siraj Kassam Teli said industrial sectors having their own labour colonies should be opened.
"A system needs to be devised so that economic engine keeps running," Teli said. "We have paid workers for April, but would not be able to pay them next month if the businesses are not reopened."
Industrialist Ali Tabba said businesses having export orders should be facilitated.
Federation of Pakistan Chambers of Commerce and Industry Vice President Khurram Aijaz said a mechanism needs to be framed and communicated to law enforcement agencies, as even essential services such as food and medicine are facing logistics and supply chain problems. Demurrage and detention is the biggest problem facing importers and traders, but the ministry of maritime affairs is quite silent on the issue, he said.
Aijaz said the chief minister listened to the proposals patiently and assured the business community that the issues would be taken up at the core committee meeting.
Karachi Chamber of Commerce and Industry (KCCI), representing 22,000 industrialists and traders, said businesses would be unable to pay their staff and labourers from May and called for a relief package bearing entirely or at least sharing the burden of wages and salaries.
Read also: PM Imran announces incentives for construction sector

"The business and industrial community, providing cash and food to the needy people on humanitarian grounds, would only be able to pay wages and salaries for this month only, but they would not be able to do so next month," Agha Shahab Ahmed, president of KCCI said in a letter to the provincial chief minister.
"Hence, a special relief has to be announced in which the entire cost of salaries/wages must be borne by the government, or a mechanism has to be adopted for a period of at least two to three months."
Under the mechanism, the aggregate amount of salaries payable by each and every industry should be fragmented into three equal portions, of which the first portion should be paid by the relevant industrialists, the second should be contributed by the government and the last has to be borne by the labourers.
"This special relief package is the need of the hour which would certainly enable the private sector to deal with this uncalled-for stress on their balance sheets, avoid lay-offs and rescue many industrial units from becoming sick or bankrupt," Ahmed added.
KCCI requested the provincial authorities to devise some kind of mechanism for providing immediate relief to the perturbed businessmen and industrialists and proposed discontinuation of all Sindh Revenue Board's (SRB) taxes/levies.
Punjab government has done the same as its chief minister Usman Buzdar recently waived off provincial taxes of Rs18 billion in the wake of the prevailing economic situation due to coronavirus pandemic.
KCCI president said SRB must stop collecting taxes during the next four to six months and the collection should resume only after the situation improves.
"The business and industrial community fully supports all the initiatives taken by the government to completely eradicate COVID-19 from Pakistan but at the same time, we are equally cognizant and too concerned about the hardships being faced by hundreds and thousands of poor labourers, daily-wage earners and their families who must be going through awful circumstances," Ahmed said.
"Hence, it is high time that the government extends the desperately-needed helping hand to the business and industrial community to reduce the excessive burden on the shoulders of industries and enable them to survive in the ongoing extremely challenging environment, besides ensuring implementation of your (chief minister's) announcement to waive off electricity bills for consumers."
KCCI president said the ongoing lockdown has led to serious crises for thousands of industries due to income erosion and additional cost of doing business as they have to pay salaries and arrange foodstuff and rations for their idle workers and daily wage earners.
"In this regard, KCCI has been receiving several appeals from different sectors and industrialists as they find the emerging situation extremely difficult which poses threat to their survival and they may not be able to stay afloat for long because of the sluggish production and additional cost of paying salaries/wages to their unproductive workforce," he added.