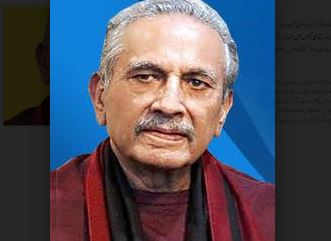 Islamabad, SEP 13: Former President of Islamabad Chamber of Commerce and Industry (ICCI) Dr. Shahid Rasheed Butt on Tuesday criticised decision of the Sindh Cabinet to double the wheat support price terming it against the interests of masses reeling under inflation.
The decision should be reversed as it that will affect the whole country and the poor reeling under record inflation will die of hunger, he said.
Shahid Rasheed Butt said that the decision should be withdrawn otherwise the price of flour will increase to Rs150 per kg which the majority cannot afford.
He informed that last year, the support price of 40kg of wheat was Rs2200 which has now been increased to Rs4000 which has started price in the market and triggered hoarding by the profiteers who are benefitting from the development.
The move will result in a record hike in the price of wheat flour and it will become impossible for millions to manage food. He observed.
It is feared that wheat from other provinces will start reaching Sindh which will lead to a nationwide crisis as a bag of flour which was available for Rs1100 to Rs1200 in January is now being sold at more than Rs2000 and any further increase in it will be unbearable for the people.
Now, one hundred kilos of wheat will be bought from the farmer for ten thousand rupees, the price of which after storage, transportation and packing will be Rs12000 minimum which will be the worst exploitation of the people.
He said that the rice crop in Sindh has been destroyed, so the poor farmers who used to eat rice are now eating roti made of wheat flour, which is increasing pressure on the existing stock.
India has banned the export of rice to ensure food security due to which its price has increased by five percent in the global market therefore the export of rice from Pakistan should be banned immediately.
He suggested that if the Sindh government wants to give relief to the flood-affected farmers, instead of doubling the relief price, they should give them a direct subsidy.