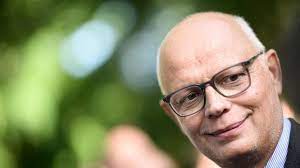 Paris, Sept 17 (AFP/APP):His physical appearance transformed but largely pledging continuity with the rule of President Emmanuel Macron, France's popular former premier Edouard Philippe is staking out the ground for a run for the presidency in 2027 against an increasingly stern challenge from far-right figurehead Marine Le Pen.
Philippe has been omnipresent in France over the past week, giving a blitz of media interviews and publishing his latest book, outlining positions well beyond his current remit as mayor of the northern port of Le Havre.
But the French have seen a man who is now almost physically unrecognisable from the premier who led the government from 2017-2020, notably including at the height of the first phase of the Covid-19 pandemic. Skin conditions have meant that Philippe, who used to sport a dark, bushy beard, is now almost completely bald.
While the 2027 race is still far off, there has already been intense jostling among Macron's centrist faction given the president himself is not allowed to stand for a third consecutive term and polls indicate Le Pen has her best ever chance at winning the Elysee.
A poll this week by Toluna's Harris Interactive for Challenges magazine showed that Le Pen would win the first round of presidential elections under any scenario. Of the pro-Macron faction, only either Philippe or smooth-talking Finance Minister Bruno Le Maire would make the second round ahead of hard-left candidate Jean-Luc Melenchon.
"A politician who comes up to you and says 'The next presidential election? We are not thinking about it at all!' is telling fibs," Philippe told TF1 television in one of his many interviews this week.
Philippe, whose political party Horizons supports Macron but is not part of the president's own Renaissance party, has yet to confirm he will run. But he has left so many hints that commentators assume he plans to seek the top job.
"I have a pretty clear idea, yes, of how things might go for me," he told France Inter radio.
He warned in an interview with Le Monde that a victory by Le Pen, who was defeated by Macron in the past two elections in 2017 and 2022, was "possible".