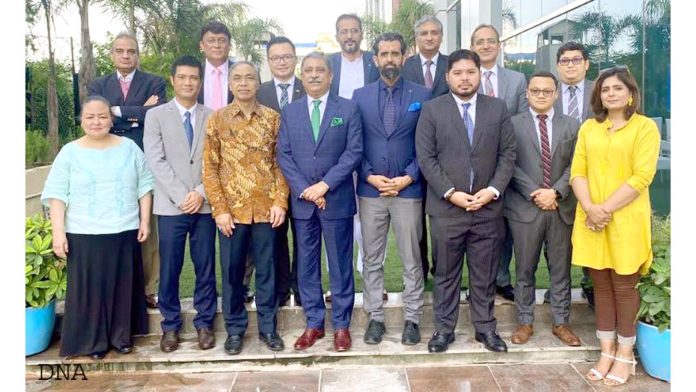 Pakistan-ASEAN must work on urgent basis to finalize Pakistan-ASEAN free trade, : Zahid  Latif Khan
Staff Report/DNA
ISLAMABAD: Pakistan-ASEAN must work on urgent basis to finalize Pakistan-ASEAN free trade, it was suggested by Mr Zahid Latif Khan Chairman, Asian Institute of Eco-civilization Research and Development (AIERD), while addressing the participants of special meeting on "Pakistan-ASEAN Economic Linkages" organized by AIERD and attended by the Ambassadors of Indonesia,. Vietnam, Malaysia,Brunei Darussalam, and Philippine.
Further he highlighted that Pakistan is land of opportunities with diverse economic fields, geography, and potential to become the hub of connectivity and ASAEN must explore avenues to benefit from these opportunities.
While addressing the gathering Adam Mulawarman Tugio, Ambassador of Indonesia proposed that there should a focal desk at Rawalpindi Chamber of Commerce and Industry (RCCI) to promote economic and trade linkages between Pakistan-ASEAN. President of RCCI Mr. Nadeem Rauf agreed to suggestion and assured the participants that RCCI and AIERD will jointly work to establish the Desk.
H.E. Nguyen Tien Phong ambassador of Vietnam stressedfor need of stability, continuity, and consistency in policies for improving economic and trade linkages. H.E. Ms. Maria Agnes M. Cervantes ambassador of Vietname urged to enhance the linkages through improved exchanges. H. E. Abdul Mubdi' Osman, Brunei Darussalam, shared that Brunei offered good opportunities to invest and trade, especially in the field of LNG.
Deddy Faisal Ahmad Salleh told that Malaysia is working to enhance connectivity with Pakistan and trying to operationalize direct flights.
During the open discussion, Mr. Bilal proposed that Pakistan-ASEAN should work to establish a special economic zone in Pakistan. It will be excellent opportunity to deepen the linkages and create new economic opportunities.
Shakeel Ahamd Ramay, CEO of AIERD concluded the meeting by saying that, Pakistan and ASEAN should work to boost the relationship on the basis of win-win Cooperation.