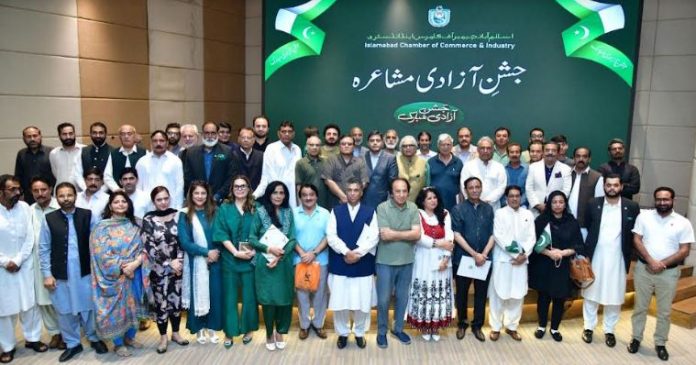 ISLAMABAD, AUG 14 /DNA/ – The Islamabad Chamber of Commerce and Industry (ICCI), in collaboration with Pakistan Cultural Forum, organized a Jashan-e-Azadi Mushaira to celebrate the country's 76th Independence Day. Prominent poets including Iftikhar Arif, Professor Jalil Ali, Ali Akbar Abbas, Naseem Sahar, Hasan Abbas Raza, Mehboob Zafar, Qayyum Tahir, Tariq Naeem, Wafa Chishti, Salman Basit, Rana Saeed Doshi, Dr. Junaid Azhar, Darshehwar Tauseef, Shazia Akbar, Abbas Hashmi and Shahbaz Chauhan participated. IG Islamabad Dr. Akbar Nasir Khan was the chief guest of the event.
Speaking on the occasion, IG Islamabad Dr. Akbar Nasir Khan said that Allama Muhammad Iqbal had dreamed of a separate country for the Muslims of the subcontinent where they would have the freedom to live according to their religion and his dream was realized by the Founder of Pakistan, Muhammad Ali Jinnah. He said that the founders of Pakistan had envisioned an independent country where the basic needs of life of people are easily met and they live a peaceful life. He stressed that every member of society should play a role to translate their vision into a reality.
Distinguished poet Iftikhar Arif said that Independence Day reminds us to work hard to make Pakistan a prosperous country. He said that while Pakistan has made unprecedented progress in many fields, still 40 percent of the population in Pakistan is living in poverty while 20 million children are out of school. He said that such issues have to be addressed to reap the full benefits of independence.
Ahsan Zafar Bakhtawari, President, Islamabad Chamber of Commerce and Industry congratulated the nation on celebrating the 76th Independence Day. He said that the true meaning of life is incomplete without the great blessing of freedom. He said that Pakistan is the result of the great sacrifices of our forefathers and we all have to work together to make this country the great nation of the world. He urged all the political parties to agree on a Charter of Economy to set a right direction for the country and to promote business and investment in Pakistan by making long-term economic policies.
Chairman Pakistan Cultural Forum and Secretary General of UBG Zafar Bakhtawari paid tributes to the founders of Pakistan who made great sacrifices to get a free homeland for us. He said that today we pledge to make Pakistan a great country in the world by following the vision of Quaid-e-Azam Muhammad Ali Jinnah. He said that on Independence Day, we should also remember our Kashmiri brothers who have been fighting for freedom for many decades.
On this occasion, poets presented blood-warming poems regarding Independence Day and received applause from the audience.