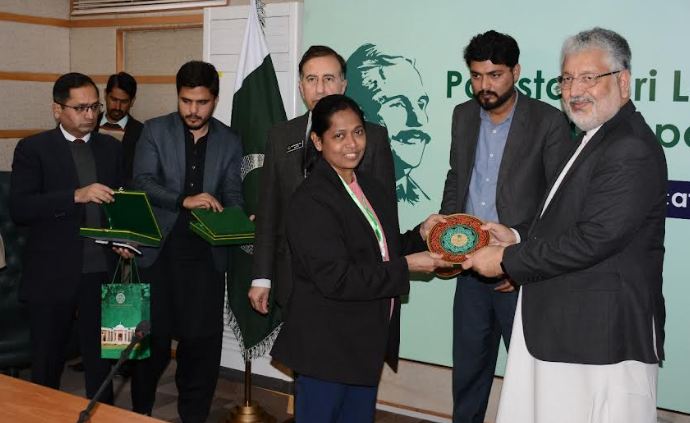 DNA
ISLAMABAD, FEB 14: Chairman Higher Education Commission (HEC), Dr. Mukhtar Ahmed held a meeting with a group of 19 senior civil servants from Sri Lanka who are in Pakistan for two weeks of executive training at the National Defense University (NDU), Islamabad.
The delegation was accompanied by Dean, Faculty of Contemporary Studies (FCS), National Defense University, Islamabad. This endeavor is being undertaken as a vital part of the "Pak-Sri Lanka Higher Education Cooperation Programme," executed by HEC Pakistan. HEC has already conducted two other cohorts of executive training for senior civil servants of Sri Lanka with the collaboration of the National School of Public Policy (NSPP), Lahore.
The group comprises senior delegates representing different departments of the Sri Lankan Government, including Public Administration, Home Affairs, Local Government, Sri Lanka Institute of Development Administration (SLIDA), Provincial Councils, Police, and Prime Minister's Office.
The delegation comprises Additional Secretaries, Director Generals, CFOs, Consultants, and Directors. During their stay in Pakistan, they are engaged in multiple interactive workshops on International Relations, Planning, Geopolitics, Bureaucracy Frameworks, Mechanisms for strengthening regional cooperation, Artificial Intelligence, and Regional Integration. There are numerous cultural visits in between the training sessions.
Chairman HEC, Dr. Mukhtar Ahmed, briefed the delegation about the evolution of the Higher Education Commission of Pakistan and the formulation of policies for the long-term impacts on higher education in Pakistan.
He also highlighted the rapid transitional changes that are taking place in the current academic arena keeping in view the technological implication in every walk of life. He also shed light on the pros and cons of the brain drain and discussed the ways countries can adopt to benefit from the brain drain that is taking place in almost every country across the globe.
The Chairman HEC emphasized that bureaucrats are the decision-makers and change agents in any civil structure. He termed bureaucracy to be responsive to people's needs, improve the system's efficiency, and their intellect for ensuring fast-paced development.
While answering a question, Chairman HEC highlighted the importance of regional cooperation among the neighboring countries in higher education for synergized achievements. He also reflected on the improvisation of teaching methodologies such as online education, especially in the Post-Covid era. Chairman HEC gave souvenirs to the delegation members from the Sri Lankan bureaucracy.