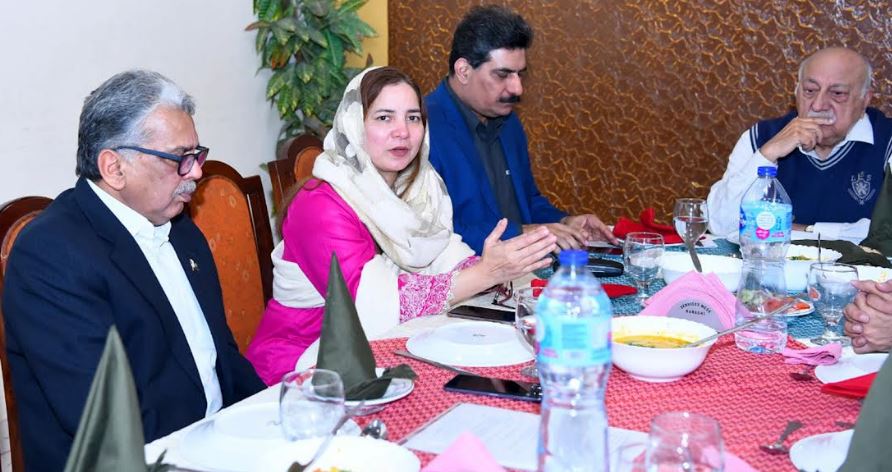 Manzar to head 22-member SRMC on BRI, CPEC
Nazir H Siyal
KARACHI: Director General Press Information Department (PID)  Irum Tanweer has said that strengthening the country's economy is need of the hour. Developments under the projects of Belt and Road Initiatives (BRI) and CPEC are the best initiatives for regional economic developments and connectivity. Pakistan will be benefited economically through this Vision of Chinese President XI Jinping by sharing prosperity worldwide.This was stated by her while addressing the special meeting of Karachi Editors Club (KEC) as a Chief Guest. 
Irum Tanveer, in her address further said that she believed that the Special Committee headed by Manzar Naqvi would be able to promote a better environment by increasing economic growth with the help of BRI and CPEC.  Earlier, the Executive Committee of KEC constituted the Special Committee on Silk Road Media Corridor (SRMC). President Mubasher Mir has announced that Secretary General KEC Manzar Naqvi will be the Convener of the Committee. An appointment letter to this effect was given to him by the chief guest Irum Tanweer on this occasion in the presence of Mubashar Naeem (DG Insurance Federal Ombudsman), Mubasher Mir (President KEC), members Executive Committee of KEC Mukhtar Butt, Agha Masood Hussain, Iqbal Jamil, Shama Munshi and member KEC Muhammad Noman.
Earlier, President KEC Mubasher Mir highlighted KEC objectives and its performance during the last four years and informed Executive committee decision to founding the SRMC and thanked the DG, PID Karachi for attending this special initiative as the Chief Guest.
Manzar Naqvi on the occasion thanked the KEC Executive Committee and the DG PID Karachi for gracing the occasion and announced the names of the 22-member Special Committee of the SRMC from all over Pakistan and China.
The special committee on Silk Road Media Corridor (SRMC) will promote the spread of the BRI "Belt and Road" Initiative and CPEC for sustainable development of the region and the world and counter the negative propaganda on these projects.
Members from China are: Ms. Yang Fanxin, Director of International Cooperation Department, National Academy of Development and Strategy (NADS), Renmin University of China; Kang Bing, a Chinese Scholar & Ex-Deputy Chief Editor and Publisher, China Daily, Beijing; Diego Su Qnig, Director of International Communication Department, Xinhua Daily, Nanjing; Ms. Zhu Na (Nicole) Senior Bilingual Journalist Xinhua Daily.Members from Pakistan, Karachi, Sindh are: Mubasher Mir, Editor Daily Pakistan, Karachi; Col (Retd) Mukhtar Ahmed Butt, Defence Analyst; Agha Masood Hussain, Senior Journalist, Columnist and Anchor, & former Provincial Minister Information; Rasheed Jamal, Senior Journalist & Author; Prof. Iqbal Jamil, Senior Journalist, Anchor and Head of Mass Communication Department, Greenwich University; Ms. Shama Munshi, Author, Columnist, Producer and Politician; Faiz Brohi, Electronic Media Expert & CEO, Awaz TV; Alveena Agha, Writer, Senior Journalist, TV Anchor; Khurram Jaffarani, Marketing & Advertising Expert and Event Planner; Muhammad Noman, Senior Photo Journalist.From Quetta (Balochistan): Ms. Javaria Tareen, Scholar, & President Balochistan Institute of Research & Development (BIRD).From (Punjab) Lahore: Zahid Baig, Senior Reporter Daily Business Recorder.From (Capital) Islamabad: Dr. Talat Shabbir, Author, Poet, Scholar & Director Pak-China Study Centre, at Institute of Strategic Studies; Mudassar Bokhari, COO, Such TV; Naeem Awan, Representative of Sindhi Media & Regional Director Daily Tulu (Islamabad, Sukkur, Hyderabad & Karachi).From (Khyber-Pakhtunkhwa) Peshawar: Syed Ali Nawaz Gilani, Writer & President Pak-China Listener's Club.From Gilgit-Baltistan: Prof. Dr. Ansar Madani, Author, and Broadcaster & Professor Karakorum International University.