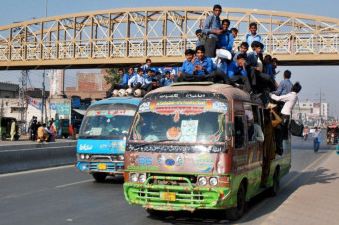 DNA
ISLAMABAD: Inspector General National Highways and Motorways Police Sultan Ali Khowaja has said that on the occasion of Eid-ul-Adha the safety and security of passengers is our top-most priority. NHMP is trying its best to make the journey of the commuters safer.
He said that on this occasion special measures have being taken for commuters to ensure their safety, timely assistance, convenience and uninterrupted free flow of traffic. In this regard, the NHMP Regional Commanders have been directed to use all available resources to ensure timely assistance and guidance of commuters on motorways and highways, deployment of additional patrolling vehicles and officers for efficient patrolling.
IG Sultan Ali Khowaja appealed to the commuters to avoid reckless driving. If they found such violations of private or public transport vehicles they should immediately informed to National Highways and Motorways Police through Toll-Free Helpline (130) and social media.
NHMP will instantly take legal action against the owners and the drivers of those vehicles. He further added that in case of overloading, under NHSO-2000, heavy fine will be imposed. Therefore, drivers should avoid overloading, over charging and reckless driving and do not ply unfit vehicles on the National Highways. He also advises commuters to use seat belts, observe lane discipline, and ensure careful and safe driving by following traffic rules.