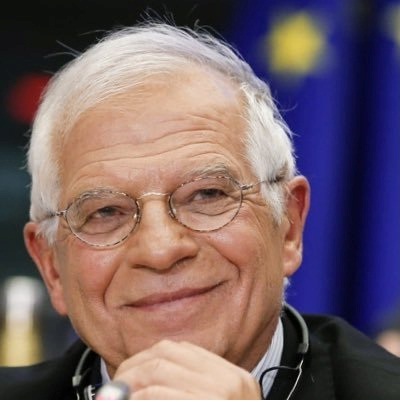 Josep Borrell
In the almost ten years since civil war began in Syria, I have followed closely its appalling developments and the horrors that the Syrian people have gone through. I come from a country that went through a civil war and perfectly know how it divides and destroys a society. More than 12 million Syrians, half of the pre-war population, had to flee their homes. Over half a million have lost their lives. An entire generation of Syrian children has only known war. As Europeans, we have collectively been unable to stop these massacres at the gates of our continent. When we pursue our efforts to build a stronger Common Foreign and Security Policy for the EU, I often think of Syria and what we could have done there.
But that's the past. Today's Syria is far from being fixed; on the contrary, it is heading in fact towards lasting instability. Its economy is in freefall, a result of chronic mismanagement by the regime, wide spread corruption and the banking crisis in Lebanon – formerly Syria's financial gateway. The consequences of the global coronavirus crisis are making the already dire living conditions of the Syrians, even worse. They really have endured enough – and they all deserve so much better. First and foremost a perspective towards a better, dignified, more peaceful future. It is our duty as Europeans, it is my duty, to do everything we can to help achieve this.
The Brussels Conference on the Future of Syria and the Region, held on 30 June, was the most important event this year to address the most critical needs generated by the Syria crisis. A unique occasion to show our support, both political and financial, for Syria's civil society of course but also for Syria's neighbours and their people particularly in Jordan, Lebanon and Turkey. They have shown extraordinary solidarity towards the 5.6 million Syrians who found refuge outside their country.
Despite the coronavirus, despite the risk of "donor fatigue" that applies to any long-running conflict, thanks to the continued mobilization of the international community and of our co-chair the United Nations, we raised additional € 6.9 billion. I know that is not enough; it can probably never be enough, seen from the eyes of people having endured ten years of war. Still, we are proud of this result, and particularly that nearly three quarters of these funds come from the EU and its member states.
For me, one of the most enlightening moments of the Conference was my direct exchange with members of Syria's civil society. Syria's civil society was close to non-existent ten years ago. It grew at lightning speed during the conflict, delivering services to people, advocating for the rights and the needs of the Syrians. The commitment of Syria's civil society and non-governmental organizations, their determination to build a better country so that they have not gone through ten years of hell for nothing, is a lesson of dignity.
I spoke to women and men who have lost family members; who still have loved ones missing or detained in unknown circumstances. One quarter of the Syrians have a missing among their close friends or relatives and wonder every day what has become of them. That is one of the many ways in which the Syrian society has been broken, and is still held hostage. Despite the odds, I left my exchange with them with a certain sense of hope, or at least with a chunk of their impressive determination. They hold the key to their country's future: they can build a better Syria.
But the aims of the Brussels Conferences went far beyond a mere donor conference. We also put the political spotlight on Syria. This is not just about the EU: Europe as a whole, Syria's neighbours, the Gulf, the whole international community from Brazil to Japan, from Canada to Australia reaffirmed its unequivocal support for the efforts of the UN to broker intra-Syria talks and work towards a lasting political solution to the conflict.
I opened the conference by saying that the country is not doing better. In fact, things are getting worse than they have ever been during the war. I know that the regime and its supporters blame Western sanctions. As we have now said many times, EU sanctions have nothing to do with the actual difficulties inside Syria. The truth is that Syria continues to undergo an organised economic exploitation, at the hands of the very people who blame us.
Our sanctions are precisely targeted at these individuals and at economic entities under their control. They were put in place since 2011, as the consequence of potential war crimes and crimes against humanity, which must be accounted for. They are designed not to impede the delivery of humanitarian and medical assistance: we have never placed Syria under any kind of embargo. On the contrary, it is mostly thanks to international assistance that healthcare, food or education can still be delivered to people in need inside Syria.
I know also that full and complete reconciliation is not only possible but also extremely rewarding. And we Europeans are ready to do more to help. In fact we would much prefer to spend money helping to reconstruct Syria than supporting people in desperate situations. However, reconstruction is not simply about rebuilding infrastructure and housing. It is about restoring Syria's social fabric, rebuilding trust and creating conditions that will prevent the recurrence of violence. It requires minimal conditions in terms of governance, public accountability, and representativeness of the governing authorities. Syria currently fulfils none of these criteria. We are ready to play our part in Syria's reconstruction and reconciliation, as soon as a genuine political transition is firmly underway.
The future of Syria is for the Syrians to decide. The political negotiations on Syria's future must be Syrian-owned and Syrian-led. How Syria will look like a year from now will depend on the commitment of the regime to the implementation of the UN Security Council Resolution 2254. Not for our benefit, not for theirs or their supporters', but for the benefit of all Syrians.
The writer is Foreign Policy chief of European Union.