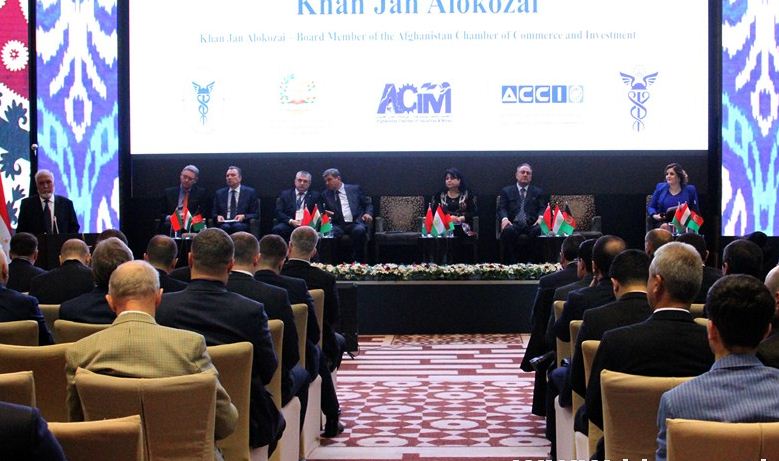 DUSHANBE, APR 7 – Trade between Tajikistan and Belarus has increased twofold between 2019 and 2020. This was noted yesterday at the forum of business circles of Tajikistan, Belarus and Afghanistan which took place in Dushanbe.
Over 200 people, including heads of state bodies, enterprises, organizations, entrepreneurs, business circles of Tajikistan, Belarus, and Afghanistan were in attendance.
The Chairman of the State Committee for Investments and State Property Management of Tajikistan Sadi Kodirzoda, Chairman of the Chamber of Commerce and Industry of Belarus Vladimir Ulakhovich, Minister of Agriculture of Tajikistan Sulaimon Ziyozoda, Minister of Agriculture and Food of Belarus Ivan Krupko, Member of the Board of the Chamber of Commerce and Industry of Afghanistan Khan John Alkozai, and other representatives of business circles participated in the forum.
Cooperation between the three states has the potential to expand even further as there are vast untapped opportunities, noted the participants.
Trade and economic opportunities of all three countries in various fields were presented, and the business and commercial circles of Tajikistan, Belarus and Afghanistan were informed about the business and investment climate, investment opportunities in tourism, industry and agriculture, food, pharmaceuticals, and other sectors.
Also, a bilateral meeting of entrepreneurs of the three states was held in the B2B format, as a result of which new documents were signed on cooperation in the field of agriculture, agricultural production, agro-industrial, and pharmaceutical equipment.
Belarusian goods and products under the name Made in Belarus were showcased as part of the forum, with the inclusion of 40 enterprises and manufacturing companies of Belarus.