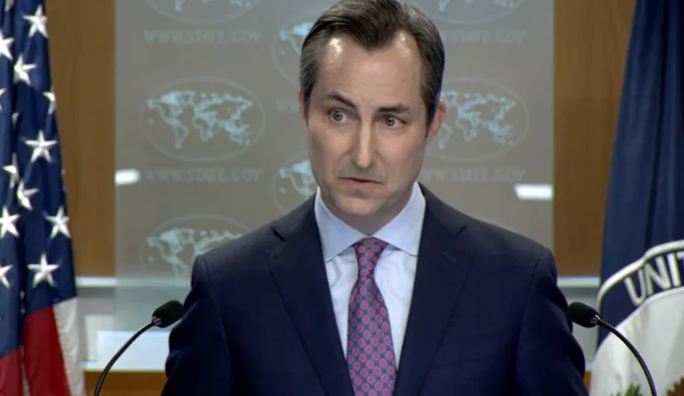 The United States reiterated that the Afghan Taliban must ensure that their country isn't used for terror attacks as Pakistan blames the neighbouring nation for harbouring hardliners Tehreek-e-Taliban Pakistan (TTP).
"Taliban has the responsibility to prevent […] Afghanistan from being used as a safe haven for launching terrorist attacks," US State Department spokesperson Matthew Miller said during a press briefing.
The development came after the top brass of the Pakistan Army said that sanctuaries and liberty of action available to terrorists of proscribed TTP and other groups of that ilk in Afghanistan is one of the major reasons impacting the security of Islamabad.
At the 258th Corps Commanders Conference (CCC) under the chairmanship of Chief of Army Staff (COAS) General Syed Asim Munir, the army noted that the TTP had obtained access to the latest weaponry due to their sanctuaries in Afghanistan.
The terror attacks in Pakistan have spiked since November last year when the TTP ended its ceasefire agreement with Islamabad, with the armed forces also ramping up efforts against militants.
Last week, the Pakistan Army said it was seriously concerned that militants had found safe havens in the neighbouring nation and threatened to take an "effective response" after 12 of its soldiers embraced martyrdom in two attacks.
Pakistan has witnessed a surge in terrorist attacks following Afghan Taliban's return to power in August 2021 and called upon the interim rulers to take decisive actions against terrorists, including the TTP responsible for cross-border attacks.
Terror activities in the country have soared by 79% during the first half of 2023, a statistical report released by the independent think tank Pakistan Institute for Conflict and Security Studies (PICSS) showed.
In an interview with BBC Pashto, Taliban spokesman Zabihullah Mujahid, in response to Defence Minister Khawaja Asif's remarks that Afghanistan is not fulfilling its obligations under the Doha deal, had said that they didn't sign the peace accord with Islamabad, causing concerns among Pakistani leaders.
In a separate presser, the White House said there is no indication that Afghan refugees in Pakistan or along its border have engaged in acts of extremism.
"We've seen no indication that Afghan refugees in Pakistan or along that border are guilty of acts of terrorism," White House National Security Council spokesman John Kirby told reporters in a press briefing Monday.
"And we're grateful to Pakistan for the incredible generosity that they have extended to so many Afghans who are just looking for a safe and secure place to be," Kirby said. "And we'll continue to work with Pakistan as we have on their legitimate terrorism threats."