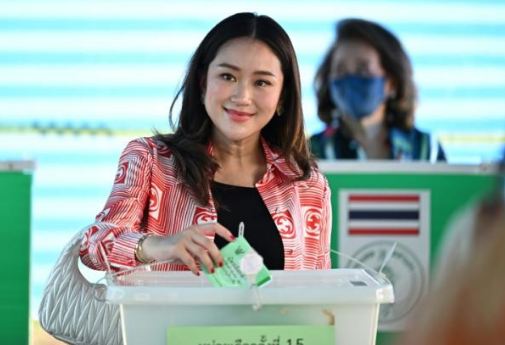 Bangkok, May 14 (AFP/APP): Thai opposition parties dominated the early vote count in Sunday's national elections, in what was shaping up as a huge rejection of nearly a decade of military-backed government.
The election campaign played out as a clash between a young generation yearning for change and the conservative, royalist establishment embodied by Prime Minister Prayut Chan-O-Cha, the ex-army chief who seized power in a 2014 coup.
With ballots counted from around half of the 95,000 polling stations, the reformist Move Forward Party (MFP) was on nearly five million votes followed by Pheu Thai on 4.2 million.
Prayut's United Thai Nation party lay third on 1.7 million, though it is not yet clear how the popular vote will translate into parliamentary seats.
And in a kingdom where coups and court orders have often trumped the ballot box, there have been fears the military could seek to cling on, raising the prospect of fresh instability.
Pheu Thai, the party of billionaire former premier Thaksin Shinawatra now fronted by his daughter, Paetongtarn, had urged voters to deliver them a landslide to see off the threat of military interference.
A landslide did not appear to be on the cards and the kingdom looks set for a period of political horse-trading as opposition parties try to form a governing coalition.
The Election Commission is not expected to officially confirm the final number of seats won by each party for several weeks.
But without an overwhelming majority MFP and Pheu Thai face a battle to secure power, thanks to the junta-scripted 2017 constitution.
The new premier will be chosen jointly by the 500 elected MPs and 250 senate members appointed by Prayut's junta — stacking the deck in the army's favour.
In the controversial last election in 2019, Prayut rode senate support to become prime minister at the head of a complex multi-party coalition.
After casting her ballot in Bangkok, Pheu Thai's main candidate Paetongtarn showed no signs of nerves.
"Today is going to be a good day. I have very positive energy about it," the 36-year-old told reporters, smiling broadly.