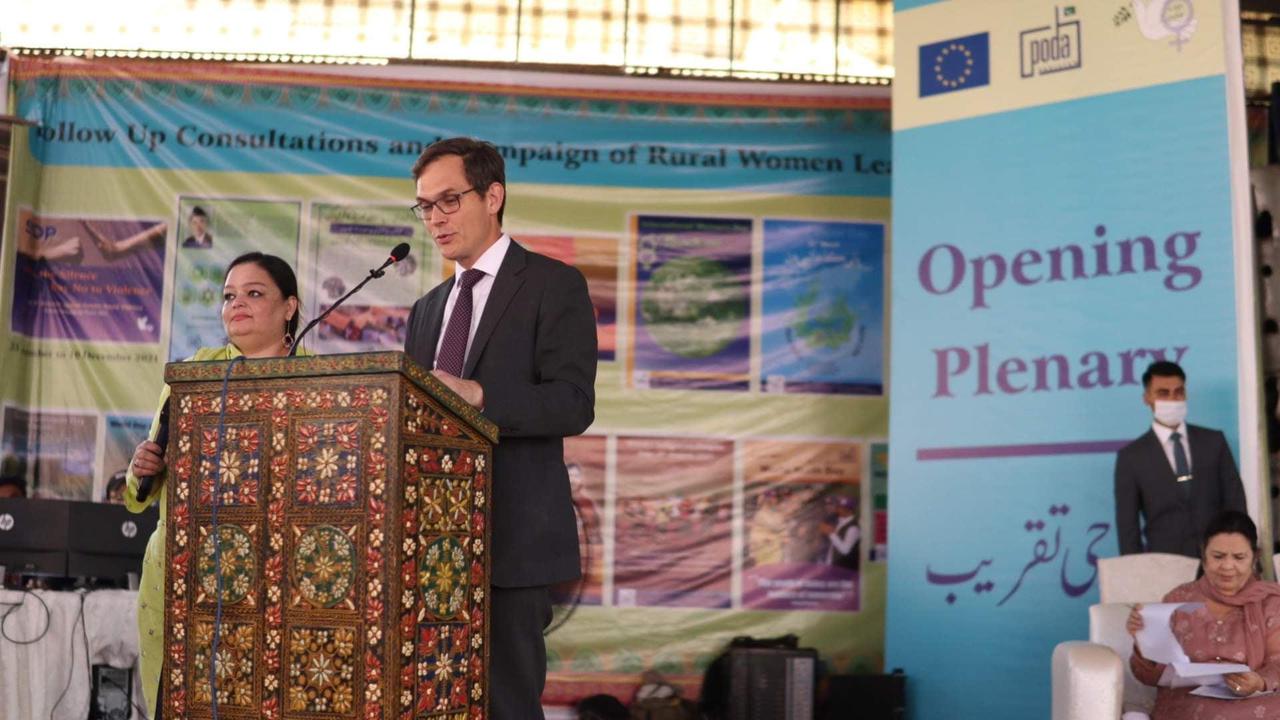 ISLAMABAD: Believing that rural women are the backbone of the agriculture sector in Pakistan, the speakers at the 14th Annual Rural Women Conference urged the government to invest in gender responsive policies to mitigate and adapt to climate change which has disproportionate impact on the livelihood of rural women and girls.
They were addressing during the inaugural session of 3-Day Annual Rural Women Conference here in Islamabad at Lok Virsa, organized by PODA-Pakistan that will be culminated on Friday 15th October on presentation of a comprehensive document to encompass a wide range of resolutions emerged during the three days of the conference proceedings. The resolutions will be adopted after getting approval by the rural women leadership platform on the basis of consensus.
The conference theme is: "The Game Changers: Rural Women Rising for Equity, Ecology, Democracy and Economic Development Leadership in Pakistan." Since, 2008, PODA-Pakistan has been organizing the annual conference in Islamabad bringing a large gathering of rural women in the center of the federal capital providing a rare opportunity to all including the policymaker and donor community to interact directly with the rural women to know their challenges and learn how they were copping with those with their indigenous solutions.
The conference is hallmark of PODA-Pakistan to celebrate International Rural Women Day on 15th October every year since 2008. Due to COVID-19, the organizers adopted strict SOPs to ensure COVID-19 free event. The number of participants which was in thousands during the previous years has been reduced. However, rural women leaders representing 100 plus districts of the country would be attending the conference for three consecutive days. During the 1st day 300 plus women and men attended the conference.
Ms. Sameena Nazir, President and Founder of PODA-Pakistan said that in the COVID-19 scenario, rural women leaders who are the game changers are here in the capital to bring the issues and challenges through which they have been gone through in the spotlight to provide an evidence to the policymakers, parliamentarians, top government officials, educationists and activists to devise a roadmap based on the insightfulness of rural women leaders to set social justice, gender equality and food security as the milestones to rethink policies and strategies to address challenges posed by the outbreak of the pandemic. "Rural women are the agents of change to secure food for all," Ms. Nazir added.
Florence Rolle, FAO (Food and Agriculture Organization) Representative Pakistan said," This year on International Day of Rural Women (15 October 2021), we are focusing on rural women leadership and the vital role that rural women and girls play in climate action and building resilience. As the world faces an increasingly critical need to address climate change, the important impact that rural women and girls have on building resilience is undeniable."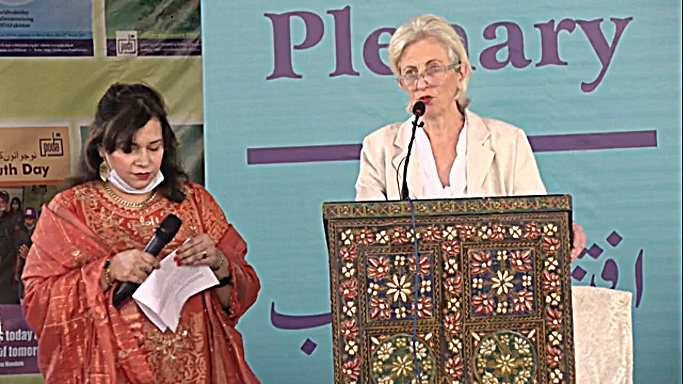 FAO Representative Pakistan said: "Patriarchal tendencies limit women's rights to inheritance, assets, services and job markets. Illiteracy is high among women and girls. In rural areas, only 22 percent of girls above ten years of age have completed primary schooling compared to 47 percent of boys. Yet women have an important role in the household economy and caring for their families. Their burden of labour increases significantly when poor agricultural productivity forces men to migrate to find work in cities and neighboring industrial areas. In disaster-prone areas, communities often have extremely limited information and understanding of the hazards that surround them. Access to information is more limited for women and children."
Ms. Androulla Kaminara, Ambassador of the European Union Delegation to Pakistan said in a message that EU believes this conference paves the way to enhanced participation of rural women in decision-making processes. While there has been some significant but uneven, progress achieved in advancing women's and girls' rights, no country in the world is on track to achieve gender equality and empower all women and girls by 2030, our common goal under the Sustainable Development Goals agenda. In Pakistan, women represent almost 49% of the country's population but they currently form only a small part of the workforce and their inclusion in decision-making processes is limited.
"The Global Gender Gap Report 2021, published by the World Economic Forum, ranks Pakistan 153rd out of 156 countries, based on four key dimensions: economic participation and opportunity, educational attainment, health and survival and political empowerment. To address these issues globally, the EU's new Action Plan on Gender Equality and Women's Empowerment in External Action 2021-2025 (GAP III) aims at empowering women and girls to fully use their rights and increase their participation in political, economic, social, and cultural life. To leave no one behind, the action plan seeks to tackle all intersecting dimensions of discrimination, paying specific attention to women with disabilities, migrant women, and discrimination based on age or sexual orientation," EU Ambassador said in the statement issued for the conference. She was represented by Mr. Sven Ruesch, First secretary, Team Leader Governance and Education, Delegation of European Union to Pakistan.
The Rural Women Leaders who spoke on the occasion were: Bushra Tabassum from AJK, Shazia Hameed, Balochistan, Shaiz Fida Gilgit-Baltistan, Huma Irshad, Punjab and Salma Memon, Sindh. Ms. Nuzhat Shirin Chairperson Sindh Commission of the Status of Women was also present to applaud the role of the rural women who offer solutions to end hunger and poverty.
The main Speakers for the 1st policy session of the conference on "Health and Nutrition of Rural Women", Ms. Farah Naz, Country Director GAIN Pakistan, Dr. Zafar Mirza, Senior Advisor, World Health Organization, Ms. Tanzeela Qambarani, Rural Woman Leader & Provincial Minister for Information, Science & Technology, Sindh, Farzana Ashraf, Manager Rural Farmer Women United (Chakwal), Faiz Rasool – GAIN Pakistan, Dr. Anwaar Ahmad – PMAS Arid Agriculture University Rawalpindi and Dr. Muhammad Azeem Khan- Chairman (PARC) Islamabad. Talha Ali Kushvah, Executive Director Lok Virsa also spoke on the occasion.
Dr Zafar Mirza applauded the efforts the current government which are focused on the health and wellbeing of the citizens as steps are being taken to ensure health coverage for majority of the population. "When primary health care system is strengthened, and then system can be revolutionized to benefit the poor population of the country, he added
Different organizations also set up their stalls at the conference venue including Rural Women Papier Machie Artisan Centre, Nara Mughlan, Sui Dhaga Center Nara Mughlan, Iyzil (Smart Female Security App in Pakistan), Blue Moon (Beauty Saloon), Aadil Memorial Vocational Centre Swat, KPK, Hilal-e-Ahmer and University of Veterinary and Animal Science (UVAS) Lahore.