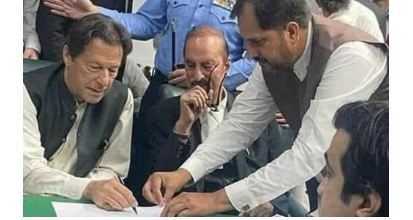 ISLAMABAD, MAR 7: The Islamabad High Court (IHC) on Tuesday suspended till March 13 the non-bailable arrest warrants issued against PTI Chairman Imran Khan by a district and sessions court in the Toshakhana reference.
IHC Chief Justice Aamer Farooq announced the verdict after it was reserved earlier in the day. The court also directed the PTI chief to appear before the district and sessions court on March 13.
The 70-year-old ex-premier, who has been recovering from a gunshot injury from an assassination attempt in Wazirabad last year, has thrice skipped indictment hearings in an Islamabad sessions court in the case.
He is accused of concealing, in his assets declarations, details of the gifts he retained from the Toshakhana — a repository where presents handed to government officials from foreign officials are kept.
The sessions court was set to indict Imran in the Toshakhana Reference on Feb 28, but his lawyer had requested the judge that he be exempted from the hearing because he had to appear in several other courts. His indictment was deferred twice before.
The judge had then issued arrest warrants for Imran and adjourned the hearing till March 7.
On March 5, an Islamabad police team was sent to Lahore to arrest Imran with the court summons. However, it returned empty-handed after the PTI chief evaded the arrest.
Subsequently, Imran had approached the sessions court for the cancellation of the arrest warrants, arguing that the withdrawal of the summons would enable him "a fair opportunity to appear and defend himself" in the case.
However, the sessions judge rejected his request on March 6 and upheld the warrant, ruling that the PTI chairman "wilfully avoided" appearing before the court.
In a petition filed in the IHC today, Imran prayed that the sessions court's Feb 28 and March 6 orders be set aside so that he could have a "fair opportunity" to appear in court and defend himself.