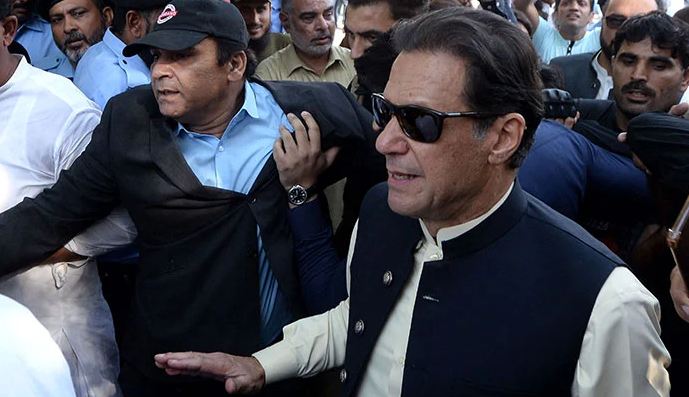 ISLAMABAD: Pakistan Tehreek-e-Insaf (PTI) Chairman Imran Khan's convoy has arrived at the Islamabad Judicial Complex, where he will appear before a court in the Toshakahan case as the situation remains tense in the area.
The former prime minister's convoy faced several hurdles on its way from Lahore to Islamabad — from vehicles overturning to police and party workers clashing on several spots.
The hurdles led to Khan's delayed appearance before Additional Sessions Judge Zafar Iqbal's court, where he was scheduled to reach 3:30pm. However, the judge said that he would wait for the PTI chief to come and then start the hearing.
In line with PTI's insistence that Khan's life is in danger and he needs security, Islamabad Chief Commissioner Noorul Amin Mengal shifted the hearing from F-8 Court Complex to the Judicial Complex in G-11 as a "one-time dispensation".
Ahead of Khan's arrival at Islamabad's Judicial Complex, the area was put on high security to ensure law and order and avoid any untoward situations — as happened last month.
But a situation like last time took place as PTI workers began stone-pelting at authorities inside the premises of the Islamabad Judicial Complex, resulting in teargas being spread to the courtroom where Khan is set to appear.
For the second time in a row, the PTI workers broke the security barrier of the complex and entered its premises forcefully along with their party chief. Police sources also said that the workers were firing teargas at law enforcers.
Arrest 'clear'
When Khan was en route to the capital, the Punjab Police resumed an operation at the PTI chief's residence, broke into his house, and arrested several party workers in the act.
In response, the former prime minister said it was "clear" that despite having gotten "bail" in the cases lodged against him, the Pakistan Democratic Movement-led government intends to arrest him.
"Despite knowing their malafide intentions, I am proceeding to Islamabad & the court bec[ause] I believe in rule of law. But ill intent of this cabal of crooks shd be clear to all."