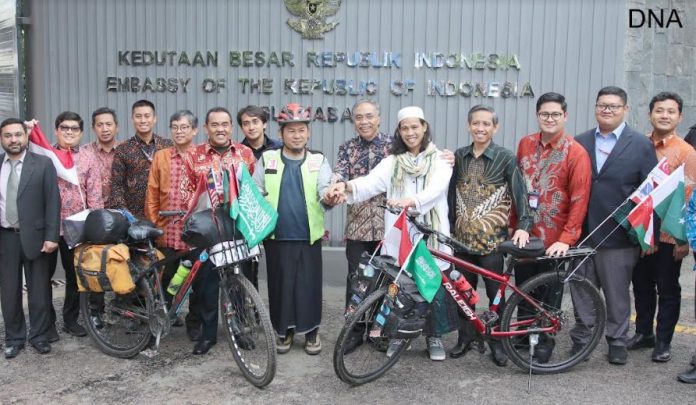 Cyclist also all praise for Indonesia embassy and the people of Pakistan for their gracious welcome and then send-off
DNA
ISLAMABAD: Ambassador of Indonesia Adam Tugio has said his embassy and colleagues were trying their best to ensure better facilitation of those who intend to visit Indonesia. He expressed these views on the occasion of the inauguration of the new-look visa section and saying goodbye to Cyclists duo to its next destination.
Ambassador Tugio further said cyclists Asid Kusuma Atmaja and Yunus who are on their way to Makkah (Saudi Arabia) on bicycles to perform Hajj are leaving for their next destination.
He said these cyclists shall reach Saudi Arabia en route Omna, Iran and UAE.
He termed their passion to face all the hardships of the roads and ordeal of a long journey to reach Saudi Arabia for Hajj highly valuable.
He added, it gave him immense pleasure to announce that the visa issues of the two Indonesian cyclists have been resolved and they can now resume their road.
The ambassador said the entire visa process for Indonesia has been made much simpler and easier for the Pakistani tourists and they can now get it within three days. He also thanked the Pakistani media as well as the tourism industry people for their cooperation to highlight Indonesia's rich tourism potential, cuisine and culture.
The cyclist duo has been on the road since August 2022 and reached Pakistan earlier this month. Both of them while talking Islamabad POST said they were anxious to reach their final destination.
The further said that they were touched by the hospitality extended to them by the Indonesian ambassador and the entire embassy staff. They were also all praise for the people of Pakistan for their gracious welcome and then send-off.