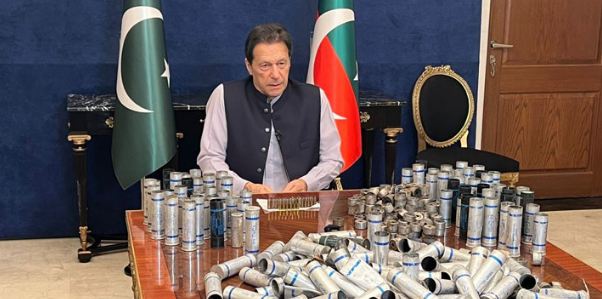 ISLAMABAD: An Islamabad court Thursday rejected Pakistan Tehreek-e-Insaf (PTI) Chairman Imran Khan's plea seeking the suspension of non-bailable arrest warrants issued in the Toshakhana case.
Additional District and Sessions Judge Zafar Iqbal announced the verdict reserved earlier redirecting the authorities concerned to arrest the former prime minister and present him before the court on March 18.
He mentioned that the decision has been taken after reviewing each and every aspect of the law, hoping that the petitioners will enjoy reading the detailed verdict.
The party approached the Islamabad High Court (IHC) on Tuesday requesting it to suspend Khan's non-bailable arrest warrants in the Toshakhana case, but the high court directed the deposed prime minister's counsel to move the trial court as the order for his arrest was "in line with the law".
The additional district and sessions judge presided over today's hearing where Khan's counsel provided the court with two options — either suspend the issued warrants or issue bailable arrest warrants.
Meanwhile, the situation at Khan's Zaman Park residence is seemingly calm following the Lahore High Court's (LHC) orders of stopping the police operation till 10am today. But when the court resumed the hearing today, it clarified that it has not stopped police from executing the arrest warrants and asked PTI to resolve the ongoing issue.
PTI workers and police clashed for nearly 24 hours as Zaman Park virtually became a battleground, with the law enforcers trying to get through supporters and arrest Khan, who was voted out as the prime minister last April.
Scores of people — including police personnel and PTI workers — were injured in the process as the law enforcers fired teargas and party supporters resorted to throwing Molotov cocktails.
Legal proceedings against Khan began after he was ousted from office in a parliamentary vote early last year. Since then, he has held nationwide protest rallies demanding a snap election, during one of which he was shot and wounded.
Written verdict
"[…] it is concluded that the application is not justified by law as well as fact which is hereby rejected," the written verdict read.
The verdict mentioned that the applicant has "prayed that in view of the undertaking given by him and the sureties offered by him to the satisfaction of this court, the order dated 13.03.2023 may kindly be recalled and suspend the warrant of arrest.