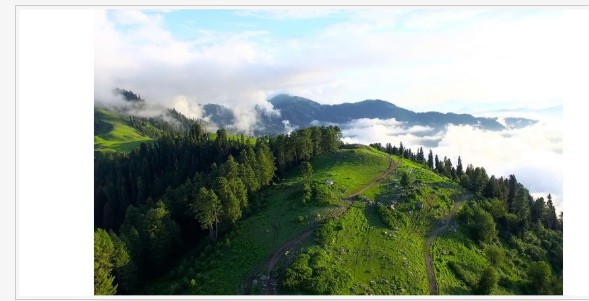 A picturesque landscape of snow-capped peaks, stunningly beautiful hill stations with scenic and eye-catching surroundings tempt the tourists to visit Ghanool which is very close to Balakot —- The Gateway to Kaghan Valley.
Ghanool is a heaven-like valley on earth, which is a village and union council of Mansehra district in the Khyber-Pakhtunkhwa province of Pakistan.
It is located in Balakot tehsil and lies in an area that was affected by the 2005 Kashmir earthquake. The beautiful high mountains and serene spots mesmerized the visitors.
Ghanool has four village councils i.e. Ghanool, Sangar-1, Sangar-2, and Bhangian. Sangar is the most populous area of Ghanool with Madakhel in the majority. Paya, which is also known as Sari and Paya, is a meadow at the height of more than 9,000 feet above sea level, the area is full of thick pine forests and wild alpine flowers and Makra Mountain which is 12,743 feet above the sea level is also part of Ghanool.
Tribes living in Ghanool include Mughals, Rajputs, Awans, Swati, and Madakhels, which makes Ghanool a land with diversified people. It's one of the educated valley of Mansehra district and well known for the hospitality of its people.
I spent around 22 years of my diplomatic career in Bangladesh, Saudi Arabia, Morocco, Spain, and Switzerland with my family. I traveled to US and France as well. However, Allah bestowed Ghanool valley with eye-catching and dazzling beauty that I never came across throughout my entire diplomatic career.
Ghanool is a picturesque landscape of snow-capped peaks and rocky hills laden with vibrant pastures, challenging mountain treks, and most splendidly, a breathtaking prelude into the wild.
The valley starts at trout fish-studded Kunhar River drains the valley all the way to snow-capped Kowa Makra peak at 12,746 feet above sea level. There are numerous beautiful small valleys that originate from the main valley.
The valley strategically has great significance since it has only one entry point through Yehni Kati which is actually the gateway to the valley, as you entered the cemented road of the gateway it will take you all the way through numerous beautiful small valleys and lush green meadows to the snow-capped glaciers at Sumbela.
However, the visitors should enter Ghanool through Jammu Neeka from where Sumbela located at a distance of some 6 to 8 km. You can enjoy mesmerizing beauty while stopping at various places in the way. At least one day is required to visit Jammu Neek and Sumbela because road is not carpeted; hence it should be advisable to park own car at Balakot or Jammu Neeka and rent a jeep which will take you there hassle-free.
Once you reached Sumbela you have three options, as there are Pehla (First) Manna, Dosra (second) Manna and Thesra (Third) Manna, which are three serene spots. Paprung and Siri Paya located at the altitude of 8,000 feet to 12,000 feet above sea level where there are rocky hills laden with vibrant pastures and trekking and hiking opportunities, which are simply amazing.
Kowa Makra located right above Paya meadows at the altitude of some 13,000 feet above sea level where you can reach easily either on foot or horse riding.
Tatapaya Shili and Shinkiyarihut are beautiful hilltops at the height of some 8,000 feet to 11,000 feet above sea level.
Since there is no residential facility in Ghanool; hence it should be better to stay in Balakot because from where you can easily visit all the beautiful places on a daily basis through jeep. All necessary items such as food and tea and water should be kept along with you while visiting Paya and Kowa Makra so as you can relish your journey. However, you need at least four days to see all the scenic and picturesque places in Ghanool.
Ganool is a peaceful valley and people are quite hospitable and good-mannered; hence you can enjoy a trip along with your family as well. I am quite a sure one you visited the valley, you will forget the beauty of Shogran Kaghan and Saiful Malook and will visit again along with relatives and family members as well.