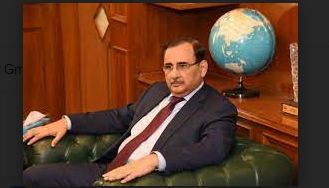 ISLAMABAD, JAN 22 /DNA/ – The Federation of Pakistan Chambers of Commerce & Industry's former president Mian Anjum Nisar has said that the business community across the country has decided to come to the streets against the anti-industry policies of the government on Monday, 23rd Jan 2023 (today), lodging a massive and strong protest demonstration, especially against the non-opening of LCs (Letter of Credits) to import industry raw material for the smooth running of business activities in the country.
Mian Anjum Nisar, who is the chairman of FPCCI's ruling group of Businessmen Panel (BMP) and also patron-in-chief of the PIAF, which is presently ruling at LCCI, threatened the government of continuing this protest across Pakistan until the clearance of their containers of imported goods, stuck up at ports for a long time, as the economy is presently in a standstill position owing to this unfortunate attitude of the authorities.
Mina Anjum Nisar urged the government for immediate restoration of the opening of letters of credit with the availability of foreign exchange for the import of raw materials putting industries into gear. He said that representatives of all trade bodies, industrial associations, markets and bazaars would participate in this protest, in the lead of BMP and PIAF, being held in front of Lahore Press Club today (Monday) to give a strong message to the government, telling them that every sector of trade and industry is severely affected due to stoppage of imported goods, as a result the economy is going towards a total closure and default.
He said what we need urgently is opening of LCs with availability of foreign exchange for meeting the requirements of industrial sector. He said that many industries are now facing shortage of raw material and are on the verge of cutting their production. He said that key products especially under HS code 84 and 85 include home appliances, air conditioners, IT products, generators, telecom, steel and automobiles. Importers are worried due to non-opening of LCs.
PIAF chairman Faheem ur Rehman Saigol observed that factories importing raw material for producing food, medicines and iron are now facing serious supply constraints. Due to non-release of our import documents and consequent non-availability of raw material, the manufacturing units are on the verge of closure, he said. He said that despite the lifting of the import ban by the government, delay in opening Letters of Credit (LCs) for essential machinery, equipment and spare parts is a matter of grave concern for traders.
He said that the current economic situation is very disturbing; SMEs and large-scale industry (LSM) are suffering from slowness. Production has stopped due to non-availability of parts, bank payments are not being made, operational expenses are also becoming difficult to meet, which has increased the fear of unemployment, he added. He said that large firms in Pakistan rely on imported raw materials / parts, which run our industries. He appealed to the Finance Minister and Governor State Bank to take immediate notice of the situation and open LCs.
Faheem Saigol observed that the country has been reeling from economic distress amid fast-depleting foreign exchange reserves, weakening rupee, and worsening macroeconomic cues, as the gap between inter-bank and open-market US dollar rates has widened by over Rs24, highlighting the difference in how the greenback is being valued in two formal marketplaces in Pakistan.
Mian Anjum Nisar said that the current economic situation in Pakistan, marred by rapidly-depleting foreign exchange reserves, has also forced commercial banks to be selective in opening LCs even for sectors such as healthcare, as it has been unable to open Letters of Credit (LCs) as per its usual banking cycle.
He lamented that the economists foresee an imminent humanitarian and healthcare crisis in Pakistan unless prompt actions are taken by the State Bank of Pakistan, Ministry of Finance and other institutions to avert the disaster.
The BMP Chairman and PIAF patron-in-chief said that at the same time, the country has failed to secure much-needed funding from friendly nations and struggled to restart its International Monetary Fund bailout program.
The struggle has left policymakers in Pakistan scrambling to arrange foreign exchange amid heightened worries over the country's economic health.
Moreover, market rumors of a possible default by Pakistan are also making rounds but the government remains optimistic that Saudi Arabia will offer crucial support for foreign exchange reserves.
The FPCCI former president said that the currency market continued to stay engulfed in a massive dollar shortage, as customers struggled to get their hands on the greenback. Dollars are not available in the market as the economic situation remains vulnerable, while foreign exchange reserves remain low.