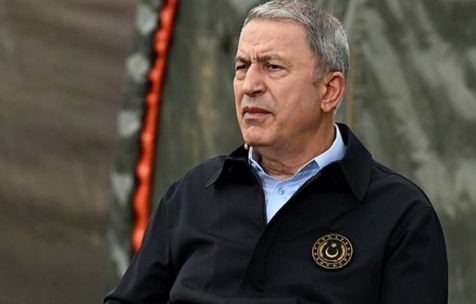 Türkiye supports the continuation of the grain deal and it believes it will be extended, the country's Defense Minister Hulusi Akar said on Sunday.
He added that nearly 24 million tons of grain were delivered to those in need via the grain deal.
"Both sides (Russia and Ukraine) have a positive attitude and we believe that it will be extended," Hulusi Akar told Anadolu's Editors' Desk which gathered in the quake-hit southern Hatay province.
He reiterated Türkiye's efforts to ensure that the landmark Istanbul deal continues to be implemented and said nearly 24 million tons of grain delivered to those in need via the deal.
Last July, Türkiye, the UN, Russia, and Ukraine signed an agreement in Istanbul to resume grain exports from three Ukrainian Black Sea ports which were paused after the Russia-Ukraine war began in February 2022.
Thanks to Turkish efforts, the grain deal was extended for another 120 days, starting on Nov. 19.
US relations, NATO bids
Making remarks also on the F-16 deal with the US, he said that the talks with US Defense Department on the F-16 purchase reached a "positive point."
Türkiye expects Congress to make a rational decision on the issue, Akar said.
Akar said that Türkiye wants everyone to know that Ankara is not desperate about the purchase of F-16s from the US. "We have other options."
Criticizing the support that is given to the terrorist organizations along the Turkish border, Akar said that the "YPG is the same as the PKK terrorist organization. We expect our friends and allies to stop resisting and see, and understand the truth."
He also reminded Sweden and Finland of the pledges for NATO bids, saying Ankara expects them to fulfill their responsibilities and commitments.
Voluntarily return of Syrians
Akar said around 56,000 Syrians in Türkiye have returned to their home country across the border since the Feb. 6 earthquakes, which were centered in Türkiye's southern region and caused devastation in northern Syria.
He also rebuffed claims that there has been an influx of Syrian refugees to Türkiye via its southern border. Many Syrian citizens living in Türkiye are returning to their home country due to the loss of their homes and relatives.
More than 47,900 people were killed in Türkiye by the magnitude 7.7 and 7.6 quakes, according to official figures.
Over 13.5 million people in Türkiye have been affected by the powerful tremors that rocked 11 provinces-Kahramanmaras, Hatay, Gaziantep, Adiyaman, Malatya, Adana, Diyarbakir, Kilis, Osmaniye, Sanliurfa, and Elazig.