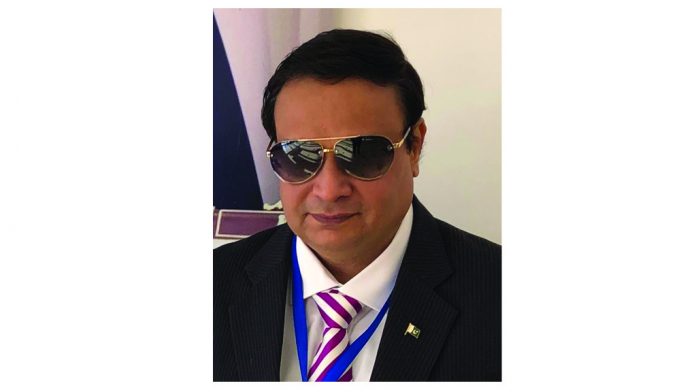 Dr. Mehmood Ul Hassan Khan
Humanitarian assistance is one of the salient features of the UAE foreign policy. The UAE model of "human philanthropy" is not based on exchange of goods or services. It is totally
deviated from the "warm glow" theory and "perfect altruism".
It is derived from true spirits of humanity, international cooperation, coordination and collaboration. It carries out numerous humanitarian assistance programs around the globe.
UAE's charities can nurture local economic growth as well as social capital. It is indeed a pioneer country of "economics of charity" in the GCC, MENA and beyond.
People and communities are struggling against widespread of covid-19. Global economies have now been subsumed. Societies have been decomposed. Political systems have been decaying because of infectious chemistry of COVID-19. Even so called good governance models/modules
have been under severe criticism around the world. Humanity has now become easy prey of this deadly invisible virus which has a vicious life cycle.
In this global doom and gloom UAE has now emerged as a beacon of hope for the regional people and international community alike. Most recently, the UAE has succeeded to develop an aerosol medication that has shown promising results in the treatment of Covid-19.
It has developed an innovative and promising treatment for COVID-19 infection using stem cells which could be a game-changer in the global fight against the virus. It was researched
and developed by a team of doctors and researchers at Abu Dhabi Stem Cell Centre which was clinically administered to 73 coronavirus (COVID-19) patients who have each gone on to recover.
UAE's Ministry of Economy said it had granted a patent to the centre to develop the treatment using stem cells. It involves extracting stem cells from the patient's blood and reintroducing them after activating them. The patent was granted for the method in which the stem cells are
collected. Subsequently, it has been nebulised into a fine mist, the treatment is inhaled into the lungs of a patient.
According to participatory researchers it has a "therapeutic" effect caused by regeneration of
lung cells. It is also thought to modulate the immune response to keep it from overreacting to the Covid-19 infection and causing further damage to healthy cells.
Moreover, the treatment has successfully undergone the initial phase of clinical trials, demonstrating its safety. Fortunately, none of the patients who were treated with the mist reported immediate adverse effects. Moreover, trials to demonstrate the efficacy of the treatment
are now ongoing and expected to be completed in a couple of weeks. Abu Dhabi Stem Cells
Centre is a specialist healthcare centre that focuses on cell therapy, regenerative medicine and cutting-edge research.
On its part, the UAE's leaders thanked the team of doctors who developed the said treatment.
President Sheikh Khalifa, Sheikh Mohammed bin Rashid, Vice President and Ruler of Dubai,
and Sheikh Mohamed bin Zayed, Crown Prince of Abu Dhabi and Deputy Supreme Commander
of the UAE Armed Forces, said the doctors' efforts will add to the global efforts to fight the pandemic.
They further reaffirmed that UAE would continue to take proactive measures to ensure safety of
its citizens, residents and visitors. Special tribute was also paid to front-line healthcare professionals, including nurses, doctors, and paramedics.
The World Health Organization (WHO) has appreciated UAE's diversified but integrated efforts
to control, contain and cure the COVID-19 in its country. It has rated it national health system is the best in the region. The World Bank has certified its meaningful economic policies towards its
business community and especially SMEs. The IMF has now praised its fiscal and monetary
policy measures to minimize the spillover repercussions effects on its national economy and associate sectors. Many international studies and publications have termed its national health
system more effective than the USA.
According to UAE official statistical data (May 1, 2020), it has provided more than 320 metric
tons of aid to over 30 countries, supporting nearly 320,000 medical professionals in the
process. The United Arab Emirates has already sent three medical consignments containing
more than 35 metric tons of medical and food supplies to Pakistan which will bolster the
country's efforts to curb the spread of COVID-19. It will assist approximately 7,000 medical professionals as they work to contain the virus. UAE government sent multi-dimensional humanitarian assistance to Afghanistan not confined
to medical masks, life saving drugs, testing kits, food items and ventilators. It dispatched variety of medical assistance in shape of medical masks, medicines, food items and life saving drugs to China. It sent approximately 33 metric tons of medical supplies to Ethiopia to assist
approximately 33,000 healthcare professionals. Indonesia receives $765,000 worth of medical
supplies from the UAE. A chartered Etihad Airlines plane carried the 20-ton supplies that
include 100,000 units of personal protective equipment, 500,000 pairs of medical gloves, 50,000
surgical masks and respirators and 20,000 hand sanitizers, among other things.
His Excellency Hamad Obaid Ibrahim Salem Al Zaabi, UAE Ambassador to Pakistan, said:
"As part of the bilateral cooperation that has underpinned the brotherly relations between our
two countries for decades, the UAE is proud to extend assistance to Pakistan in furtherance of
global solidarity in the fight against COVID-19."
Foreign Minister Makhdoom Shah Mahmood Qureshi while speaking to to his UAE
counterpart Sheikh Abdullah Bin Zayed Al Nahyan thanked him for his country's support in
battling COVID-19.
According to the UAE Ministry of Foreign Affairs and International Cooperation (MoFAIC) its
total foreign aid contributions in 2018 exceeded AED 28.5 billion (USD 7.79 billion) to 42
countries. It reflected the UAE's continued success in exceeding the 0.7 percent United Nations
target for the sixth consecutive year by providing 0.93 percent of Official Development
Assistance as a proportion of Gross National Income in 2018, qualifying the UAE as one of the
world's largest donors in terms of ODA/GNI.
Commitments made by the UAE in 2018 to global development and humanitarian assistance in
numerous countries, including 14 Least Developed Countries (LDCs), reached AED 10.33
billion (USD 2.81 billion). These programs include emergency health, transportation, education,
power generation, medical, and food aid offerings, among others.
The said report also details how from 2014 until 2018, the UAE supported programs in Africa
with aid reaching AED 61.80 billion (USD 16.83 billion). UAE support to Asia reached AED
48.04 billion (USD 13.08 billion) in that same period.
United Arab Emirates (UAE) miraculous socio-economic development has transformed it into a
befitting proposition in terms of doing business, making investment, launching joint ventures,
tourism and last but not least re-exports.
Strategic vision of its successive leadership has successfully turned sands into artificial
intelligence hubs. Their love and compassions of humanity has established the best national
health system in the GCC & MENA.
UAE has now even surpassed the USA in its national drive of combating COVID-19. Moreover,
its recent scientific discovery of stem cell treatment (aerosol medication) has uplifted the
depressing souls of international communities.
Its relentless efforts of international campaigns relating to humanitarian assistance have won unlimited hearts and souls of dying people around the globe.
Being prominent regional expert of UAE & GCC I conclude that its continued annual foreign aid contributions are now trying to create new world of hope, happiness, harmony, comfort, cooperation, coordination and reshaping the spheres of geopolitics and geo-economy by
strengthening persuasions of peace and justice, economic growth, and poverty elimination initiatives.