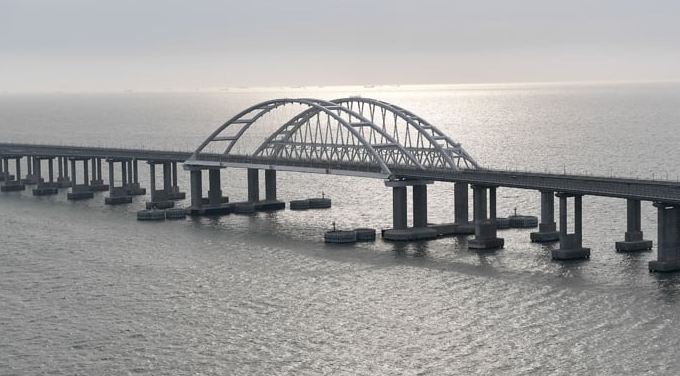 The warring parties confirmed that a sea drone from Ukraine carrying a large number of explosives hit a Russian oil tanker overnight in Crimea marking it the second assault from Kyiv in 24 hours, as both sides have opted to inflict maximum damage on each other.
There were no casualties reported in the aftermath however the Crimean bridge and ferry transport were halted for hours, according to officials in Crimea.
A Reuters report suggested that the drone with 450 kg of explosives hit the SIG vessel as it transported fuel for the Russian military in Ukrainian territorial waters.
"The tanker was well loaded with fuel, so the 'fireworks' were seen from afar," Reuters reported citing an intelligence source, of the joint operation by Ukraine's navy and security service.
Kyiv said: "Destroying Russia's military infrastructure inside Russia or on Russian-controlled territory in Ukraine is crucial to its counteroffensive after the February 2022 invasion."
On Friday, a drone from Ukraine also hit the Russian Navy navy base at Novorossiysk damaging a warship in the first attack by the Ukrainian navy so far from its shores.
An official of Ukraine's southeastern region of Zaporizhzhia Vladimir Rogov said the SIG tanker had been supplying oil to Russian troops in Syria.
The United States imposed sanctions on the tanker and its owner, Transpetrochart, in 2019 for helping provide jet fuel in Syria.
Attack in vain?
Vasyl Malyuk, head of Ukraine's SBU security service, did not directly confirm the latest attack but said any incident with Russian ships or the Crimean bridge was "an absolutely logical and efficient step towards the enemy".
"Moreover, such special operations are conducted in the territorial waters of Ukraine and are completely legal," Malyuk said on the Telegram messaging app.
Russia's Novorossiysk Maritime Rescue Coordination Centre was quoted by the RIA news agency as saying there was no fuel spill from the SIG, as the ship had been carrying only technical ballast. Recovery work was underway with two tugboats nearby.
"The SIG tanker … received a hole in the engine room near the waterline on the starboard side, preliminarily as a result of a sea drone attack," Russia's Federal Marine and River Transport agency said in a statement on Telegram.
The Moscow-installed authorities in Crimea said the bridge, which was completed by Russia in 2018 and has come under serious attack twice in the war, was not targeted.