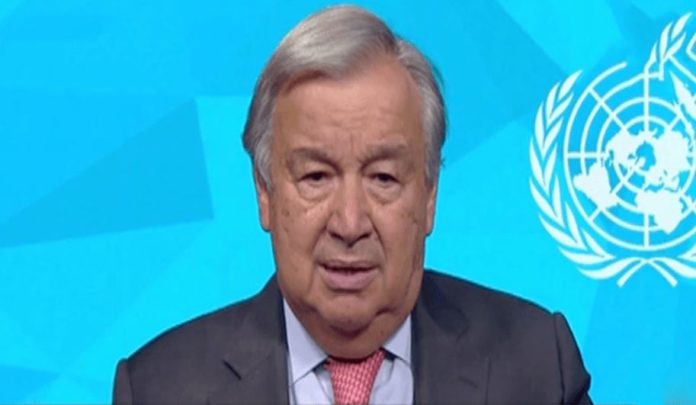 The United Nations and the Pakistani government issued a flash appeal on Tuesday for $160 million on Tuesday to help the country cope with catastrophic floods that have killed more than 1,100 people, destroyed infrastructure and crops, and affected 33 million people.
The funds will provide 5.2 million people with food, water, sanitation, emergency education, protection and health support, UN Secretary-General Antonio Guterres said in a video statement played played at the Foreign Office (FO), calling the flooding a "colossal crisis".
---
Key developments
NDMA says 1,136 have died since June 14
75 dead, 59 hurt in last 24 hours
Provinces, particularly Sindh, suffer damage of over Rs355bn
UN issues $160m flash appeal to help flood victims in Pakistan
FM Bilawal says the country has become "ground zero" of global warming
Water levels receding in KP rivers
Ahsan Iqbal says it might take five years to rebuild
COAS Bajwa reaches Swat to monitor flood relief activities
Canada, Azerbaijan and UK pledge $5m, $1.2m and £1.5m in aid, respectively
PDMA releases Rs220m for relief measures in four KP districts
---
The aid, covering the initial six months of the crisis response, will also help to avoid outbreaks of cholera, and to provide food aid to mothers and their young children."Pakistan is awash in suffering. The Pakistani people are facing a monsoon on steroids — the relentless impact of epochal levels of rain and flooding," Guterres said.
He branded the floods a "climate catastrophe", saying South Asia was one of the world's climate crisis hotspots. "People living in these hotspots are 15 times more likely to die from climate impacts," the UN secretary-general said.
"As we continue to see more and more extreme weather events around the world, it is outrageous that climate action is being put on the back burner as global emissions of greenhouse gases are still rising, putting all of us — everywhere — in growing danger," he added.