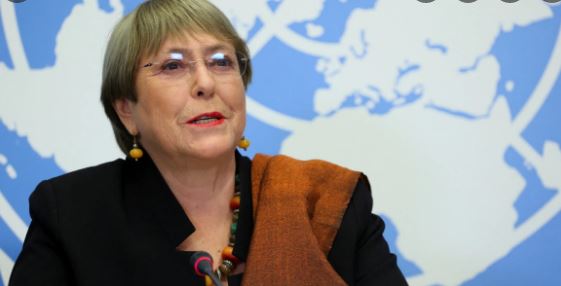 Geneva, Aug 31: The UN rights chief will release a long-awaited report on alleged violations in China's Xinjiang region before leaving office later Wednesday, despite strong pressure from Beijing not to publish.
"The report on Xinjiang will go out by the end of the day," said Jeremy Laurence, a spokesman for outgoing High Commissioner for Human Rights Michelle Bachelet, who promised to publish the report before leaving office at the end of the month.
The announcement means the report will come out in the final 12 hours of her four-year term.
Amid the allegations swirling around abuses in Xinjiang, Bachelet came under increasing pressure to investigate and speak out about the far-western region of China. Beijing stands accused of detaining more than one million Uyghurs and other Muslim minorities there.
Nearly a year ago, the former Chilean president told the UN Human Rights Council an independent evaluation of the situation in Xinjiang was needed, and indicated that her office was finalising a report on the matter.
But the report was repeatedly delayed amid growing impatience from rights groups and some countries.
Speaking earlier Wednesday, Chinese foreign ministry spokesman Zhao Lijian branded the report a "farce" and hoped that Bachelet would not publish it in her final hours in office.
"We firmly oppose the release of the so-called Xinjiang-related report by the UN Human Rights Office. This report is a farce orchestrated by the US and a small number of Western powers," he said.
"We hope that the high commissioner will make the right decision."