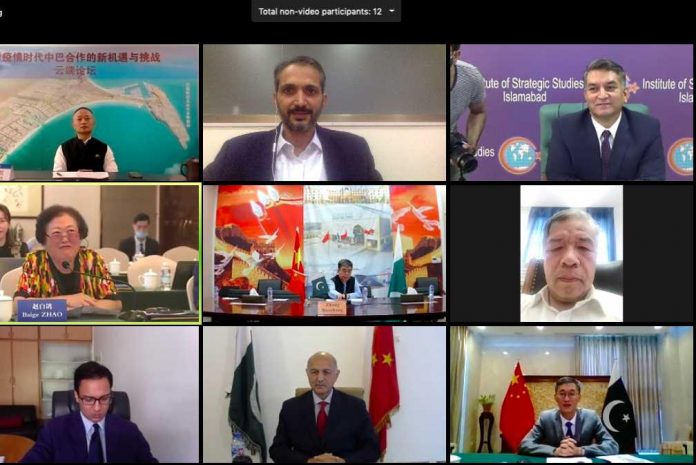 DNA
BEIJING, July 23 : Chinese Ambassador Yao Jing and Senator Mushahid Hussain Syed agreed that unity and cooperation are two pillars of China-Pakistan friendship, which has been demonstrated through their joint fight against the COVID-19 pandemic and solid support for each other on major issues of the international community.
According to Gwadar Pro, they made the remarks while attending the webinar on New Opportunities and Challenges of China-Pakistan Cooperation in the Post-epidemic Era as guest speakers on Wednesday.
The webinar, upholding the spirit of putting people and life first, connectivity, and openness and inclusiveness, aims to deepen the friendly cooperation between China and Pakistan and make it the best practice of the Belt and Road construction.
Joint Initiative on Promoting International Cooperation in COVID-19 Prevention and Control and High Quality Development of CPEC was released at the conference.
Under the guidance of Silk Road Think Tank Association, the webinar was co-hosted by China Center for Contemporary World Studies, National Institute of Int'l Strategy of CASS, BRI Int'l Think Tank of CASS, Sustainable Development Policy Institute and Research and Development Int'l, and Pakistan-China Institute.
Vice Chair of the 12th NPC Foreign Affairs Committee, Chair of the Advisory Committee of BRI International Think Tank, CASS, and Chair of Advisory Committee of RDI Ms. Zhao Baige chaired the webinar.
Hailing the valuable mutual support between China and Pakistan, Yao Jing said that the China-Pakistan Economic Corridor had not once stopped during the coronavirus outbreak, and meanwhile no one working at the CPEC projects has found infected.
Bearing in mind the progress of the CPEC projects, at least 10 chartered flights have been arranged so far to transport Chinese technicians to Pakistan.
Yao said, at this challenging time, China and Pakistan are more united in pushing forward the development of CPEC, a major force in driving the economic revival and export of Pakistan.
The recently-launched Kohala hydropower plant, Azad Pattan hydropower plant, and Diamer Basha hydropower plant that will bring investments and thousands of job opportunities to local communities are vivid examples of CPEC's inner-power.
Yao also stressed the importance of building the Silk Road of Health in Pakistan, adding that the 2nd phase of CPEC will endeavor to improve the social welfare by building hospitals, laboratories, and provide medical equipment to relevant organizations.
Echoing the remarks of Ambassador Yao, Mushahid Hussain said the unity and cooperation are proven to be two pillars of Pakistan-China relationship and expressed thankfulness to China for sending medical supplies and experts to help Pakistan combat the pandemic.
He recognized the success of the 1st Phase of CPEC and took delight in the good start of the 2nd phase with three hydropower plants rolling out.
Keynote speakers from Chinese think tanks, included Director General of China Center for Contemporary Studies Jin Xin, Executive Vice President of Fudan Institute of Belt and Road & Global Governance Huang Renwei, and Deputy Director-General of National Institute of International Strategy of CASS Ye Hailin.
They discussed about the significance of global cooperation in confronting with the ruthless pandemic that knows no boundaries.
On the Pakistani side, keynote speakers Director General (China) of Ministry of Foreign Affairs Muhammad Mudassir Tipu, Deputy Director of Ministry of NHSR&C Samra Mazhar, Deputy Director of Ministry of NHSR&C Mustafa Hyder Sayed, and Director of Asia Study Center of SDPI addressed the meeting.
They agreed that the Chinese-style anti-epidemic experience has set a model for the global war against the epidemic, and believed the Pakistan-China cooperation in health, education, technical training and people's livelihood under the framework of CPEC is promising.
At the panel discussion, Zhang Baozhong, Chairman of China Overseas Ports Holding Company (COPHC) reviewed the latest progress in Gwadar, including the operationalization of Afghan transit trade via Gwadar Port, the expansion of Faqeer Middle School, and Gwadar's first LPG (liquefied petroleum gas) Terminal.
He dismissed slanders and rumors on CPEC, saying that the progress is visible and benefits to the local people tangible.
Representatives from other Chinese and Pakistani enterprises, including Chairwoman of Wuhan Landing Intelligence Medical Co., Ltd. Sun Xiaorong, Deputy General manager of CCCC-FHDI Engineering Co., Ltd. Liao Jianhang, President of JW SEZ Group, Director of China-Pakistan Study Center of ISSI Tallat Shabbir and ED CPEC Center of Excellence Liaqat Ali Shah also delivered speeches.