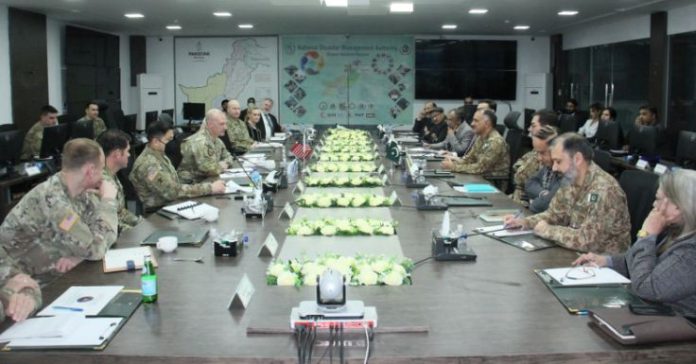 ISLAMABAD, FEB 15 (DNA) — An eleven-member United States Army Central (USARCENT) delegation led by Deputy Command General Major General Wendul Glenn Hagler has arrived here for taking part in a four-day interactive session with National Disaster Management Authority (NDMA) officials and relevant stakeholders dealing with Disaster Management (DM).
The sessions were aimed to acquire knowledge from each other's experiences, find common zones for future shared cooperation, and to work out modalities for training Pakistani disaster management officials through FEMA, academia exchange programme and sharing of latest technology-driven software or products to forecast changing weather conditions to plan well ahead of disasters, said a news release on Wednesday.
After welcoming remarks by the Chairman NDMA Lt. Gen. Inam Haider Malik, the delegation was briefed about the devastating effects of the 2022 floods in Pakistan. The NDMA brief also identified the shortfalls in the DM system of Pakistan based on the lessons learnt during the calamities faced by the country in 2022 and indicated areas where possible US cooperation was urgently required.
During the discussion, the chairman informed the house about the reshaping of the National Emergencies Operation Center (NEOC) and the shift from reactive to proactive mode. "There is a dire need for midcourse discussion over redefining the SDG goals owing to its limited achievement, as climate change is not restricted to one country but the whole globe is being affected," he further suggested.
While mentioning the role of INGOs/NGOs & DM Partners, he stressed upon the imminent requirement to align/coordinate their activities as per the requirements of vulnerable areas/people to evade replication of efforts and resources.
NDMA with the remodeled approach is now focusing primarily on the fore-warning of weather patterns resulting in disasters, creating a common operating picture predicting hazards months in advance and incorporating National/Regional universities through the National Institute of Disaster Management (NIDM) to create a research-based think tank.
Chairman also raised questions about whether there is a possibility to work on global climate stress reversal and replacement of disaster risk reduction (DRR) with Disaster Risk Elimination (DRE).
Deputy Commanding General, Major General Hagler offered condolence over the loss of lives in floods 2022 and appreciated the efforts of Pakistan for remodeling of disaster management system while incorporating the vulnerable. The USARCENT team assured of possible cooperation with NDMA on the latest lines as the developed world is practicing.
Later in the day, SUPARCO and Ministry of Planning Development and Special Initiatives (MoPD&SI), USACE & PMD furnished the session on post-flood damages need assessment, reconstruction efforts, and satellite-based inundation & damages assessment, Past USACE involvement in Pakistan and overview of the outlook for the upcoming season and forecasting capabilities respectively.
The officials from the Ministry of Foreign Affairs (MoFA), Ministry of Interior (MoI), Pakistan Army, MoPD&SI, ODRP, FFC, PMD/ FFD, SUPARCO, WAPDA, Emergency Services Academy 1122 also attended the session.
The sessions will continue for the subsequent two days with the active participation of USARCENT and Pakistan DM teams to further deliberate upon matters related to Pakistan hazards and vulnerabilities, NDMA's role in integrating international assistance, search and rescue capacity of the Pak-USAR Rescue Team. — DNA