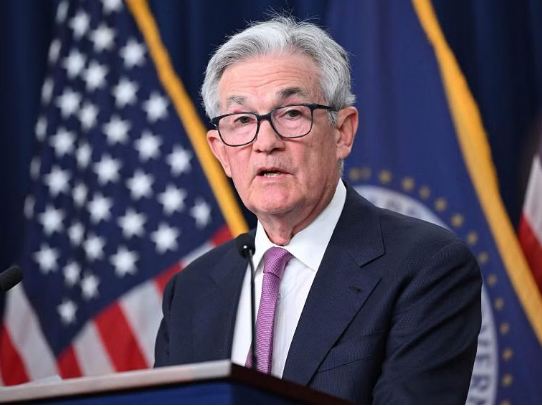 Washington, June 28 (AFP/APP): US Federal Reserve Chair Jerome Powell said Wednesday that the central bank is leaving open the possibility of consecutive interest rate hikes in the months ahead, to cool the economy further.
The Fed recently paused its aggressive cycle of rate increases after 10 consecutive hikes, to give policymakers more time to weigh the effects of existing moves on inflation.
At the same meeting, a majority of members of the Fed's rate-setting committee indicated that they see interest rates rising twice more before the end of the year.
"We believe there's more restriction coming," Powell told a central banking conference in Portugal on Wednesday.
But he added that the Fed has not decided whether it will raise rates every other meeting, as some analysts have suggested.
"I wouldn't take, you know, moving to consecutive meetings off the table at all," he said.
Powell said that US monetary policy will likely take more time to act against high inflation and bring it down to the Fed's long-term target of two percent.
"Policy hasn't been restrictive enough for long enough," he added.
The US central bank has raised its benchmark lending rate by five percentage points in little more than a year.
Inflation has fallen since the Fed's cycle of monetary tightening began, but it remains well above target.
Powell indicated the Fed did not expect to hit its two percent target for core inflation — a measure which excludes volatile food and energy prices — before 2025.
"We will be restrictive as long as we need to be," he said.
At the same time, the unemployment rate has remained close to historic lows, although the labor market has shown some signs of softening recently.
Fed researchers earlier predicted the United States will enter a mild recession later this year.
But on Wednesday, Powell repeated previous comments indicating that he believes the world's biggest economy could still avoid a recession.
"To me it's not the most likely case, but it's certainly possible," he said.
Futures traders are assigning a probability of more than 80 percent that the Fed will vote to raise interest rates by a quarter percentage-point at its next meeting between July 25 and 26.
That would bring the Fed's benchmark lending rate to a range between 5.25 percent and 5.5 percent, which would be its highest level in 22 years.