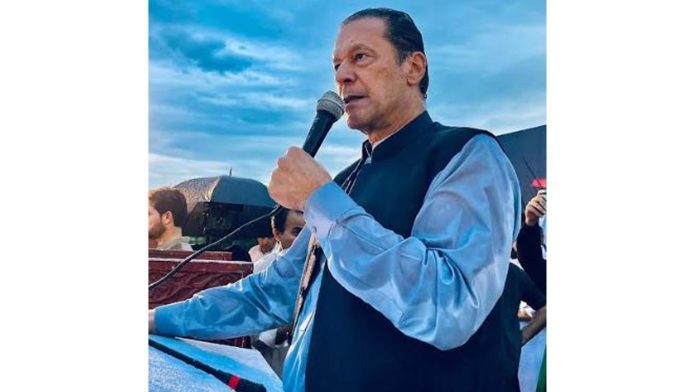 Time ripe to rid country of cabal of thieves: Imran Khan
Says terrorism case not harm his reputation but of Pakistan globally
Vows journey of real independence now unstoppable
DNA
HARIPUR: Pakistan Tehreek-e-Insaf (PTI) Imran Khan made it clear that time was ripe to rid the country of the cabal of thieves who mercilessly looted and plundered the country for the last 30 years, as the journey of real independence was now unstoppable.
Speaking at a mammoth public gathering here on Wednesday, he warned that imported government should announce the election date or else he was preparing the nation and would soon give the 'final call' for a march on the federal capital.
He said that on his new call, a sea of people would come from every corner of the country, as the imported government was just limited to Islamabad.
Imran Khan said that PTI ruled in Khyber-Pakhunkhwa (KP), Punjab, GB and AJK and the passionate tigers of PTI of these areas were ready to topple the government of thieves.
He asked Chief Minister KP Mehmood Khan and Pervez Khattak PTI KP President to compete the party organizational structure as they have left with little time, as the battle entered into defining moment.
Talking about terrorism charges framed against him, PTI chairman said that he only announced taking legal action against the police officials and female judge, but he was charged in a terrorism case. However, he stated that the step did not harm his reputation but of Pakistan around the globe.
He told the charged crowd that the imported government wanted to arrest him, so he got ready to go jail but they were baffled by spontaneous public response as they thought that PTI's supporters were a 'mummy-daddy' crowd.
PTI Chairman stated that after back-to-back failures to defeat him, the imported government wanted him to knockout technically to disqualify him but now this Haqiqi Azadi movement would not stop as the people have awakened.
Hitting hard at the three stooges, he said that they would not forgive the three stooges Fazl Rehman, Shehbaz Sharif and Asif Ali Zardari, who looted the country mercilessly.
He urged them to do what they can but now the nation awakened and the true freedom movement was unstoppable, adding that they were filling cases against PTI leadership because they were scared and their defeat was unavoidable.
Talking about police highhandedness on PTI's peaceful marchers on May 25, he said that Umar Ayub was subjected to torture on that day but he declared that cases would be registered against the police personnel who tortured him.
"I have never seen such a crowd in Haripur. We want political stability, and the only way is elections," he added.
He said that the media houses which criticized PTI government and stirred a storm when inflation was only 16%, but they have zipped their lips on inflation going beyond 40%.
PTI Chairman stated that inflation was just an excuse to topple his government as there was no corruption in his government.
"Inflation is today literally breaking the poor and middle class today. They had promised to reduce inflation," he added.
Talking about the flood situation playing havoc across the country, Imran Khan directed the Punjab and KP chief ministers to leave no stones unturned in rehabilitation and relief efforts for flood-affectees.
Imran Khan asked the Sindh government to at least try once spending the money on its people while he flayed Shehbaz Sharif for visiting Qatar at the time when Pakistan was confronting with calamity situation, as no country was ready to give loan.
He advised Shehbaz that he and his elder brother should bring the looted the national wealth instead of carrying a begging bowel worldwide.
Talking about media curbs, Imran Khan said that the imported government imposed curb on media and banned live telecast his speeches, besides framing terrorism cases, however he added that the PTI social media deserved all applaud for their tremendous efforts to convey his message to the people everywhere.
Imran Khan said that they did not criticism of state institutions other than constructive and for the sake of improvement because our life and death are in Pakistan and this is our country, unlike those who were part of the government and bashed the state organs.
PTI Chairman went on to say that they were the people who want to see a stabilized Pakistan which would be achievable only through free and fair elections, adding that the revival of the economy was also subjected to free and fair polls.
Talking about country foreign policy, Imran Khan stated that the country should not be sacrificed for anyone else interest and policy should be made while keeping the interest of the country supreme.
He said that Pakistan was plunged into a war on terror and sacrificed over 80,000 people, besides inflicting billions of loss to the country. He said that the country's decisions must be taken in the country.
About Shahbaz Gill, Imran Khan said that Gill was stripped naked, assaulted and sexually abused as he lamented that such kind of practices were still happening in Pakistan.
He said that the female magistrate remanded Gill into police custody again despite that a medical report had established that custodial torture.
"In which country Shehbaz Gill would have been kidnapped, and then tortured mentally and physically? He asked. Gill left everything to fight for Naya Pakistan, as he is being tortured for being in PTI, he added.