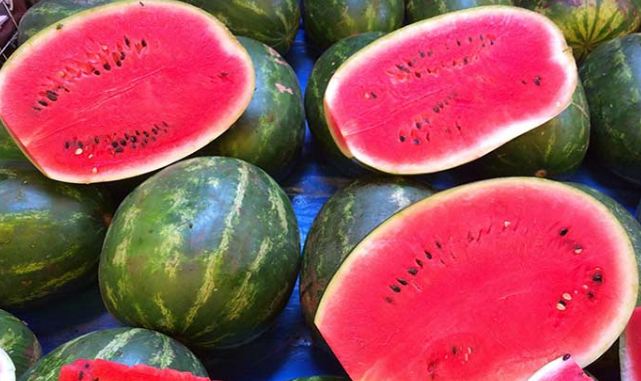 ISLAMABAD – Watermelons contain many nutrients, such as potassium, vitamin C, and magnesium. The fruit also has a high bioavailability of antioxidants, including lycopene and l-citrulline.
Studies have shown that watermelon supplements and extracts decrease blood pressure and cholesterol levels.
Comparably fewer studies investigate raw watermelon, however, and those that do tend to involve large quantities of over 2 lbs per day.
Nevertheless, these studies also report that consumption of the fruit is linked to lower cholesterol and body weight, as well as a lower risk of prostateTrusted Source, lung, and breast cancer.
Further study of raw watermelon's health effects could improve dietary guidelines and prevention strategies for cardiometabolic health.
Recently, two studies that investigated the health effects of watermelon consumption.
The first study, published in Nutrients, found that children and adults who consumed watermelon had a higher intake of various nutrients, including dietary fiber, magnesium, and potassium, than non-consumers. They also had a lower intake of added sugars and saturated fatty acids.
The second study, also published in Nutrients, found that drinking watermelon juice for two weeks protects vascular function.
Dr. John A. Galat, cardiac surgeon at Novant Health, Charlotte, North Carolina, who was not involved in the studies, told Medical News Today:
"As the hot summer months approach these two studies, incidentally both funded by the National Watermelon Promotion Board, suggest that the regular enjoyment of watermelon might be good for you! In fact, over indulging likely would not have any adverse effects unlike so many other things that we enjoy."
He noted, however, that based on these two studies alone, he would not necessarily promote watermelon consumption to those who don't already enjoy the fruit.
Watermelon consumers may have a healthier diet
For the first study, researchers analyzed data from 56,133 individuals from the National Health and Nutrition Examination Survey (NHANES) study.
They collated the data between 2003 and 2018, and included two 24-hour dietary recalls from individuals ages 2–18 years alongside adults.
The average watermelon consumption among adults and children was 125 and 162 grams per day. Around 98% of participants consumed raw watermelon, whereas 2% consumed watermelon juice.
By analyzing the dietary information, the researchers were able to estimate overall nutrient intake among watermelon consumers and non-consumers.
To ensure accuracy in their results, they controlled for factors including physical activity, poverty income ratio (PIR), smoking status and alcohol intake. They also controlled for the consumption of other foods, including total vegetables, non-watermelon fruits, and dairy intake.