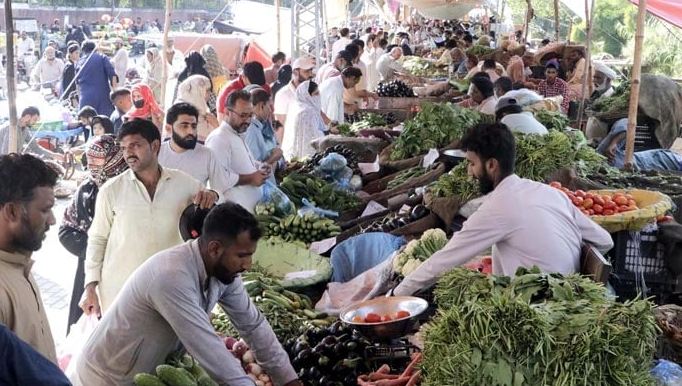 KARACHI: As food and energy prices moderated, the weekly inflation rate eased to 28.55% in the week leading up to July 6 — the lowest level since October 2022 — The News reported Saturday.
Data from the Pakistan Bureau of Statistics (PBS) showed that the sensitive price indicator (SPI) went up 0.70% week-on-week and 28.55% year-on-year.
The current level of SPI was attributed by the PBS to an increase in food prices, including tomatoes (42.25%), onions (8.70%), potatoes (4.79%), wheat flour (4.05%), gur (4.01%) and sugar (3.48%), and non-food items, including shirting (3.02%) and diesel (2.95%).
On the other hand, a major decrease was observed in the prices of bananas (7.51%), chicken (2.80%), eggs (1.17%), LPG (0.96%), vegetable ghee 2.5kg (0.74%), cooking oil 5 litre (0.72%), vegetable ghee 1kg (0.71%), pulse masoor (0.47%), pulse moong (0.31%) and pulse gram (0.24%).
Taking to its official Twitter handle Topline Securities — a brokerage firm based in Pakistan — said, "Pakistan's weekly inflation (SPI) has dropped to 29 percent for the week ending July 6, 2023, which is the lowest since October 20, 2022."
During the week ending October 20, 2022, Pakistan's annualised inflation stood at 27.13%. Since that month, inflation has remained above 28%.
Analysts have concluded that inflation has peaked and is now moderating.
For the week under review, SPI was recorded at 257.79 points against 256 points registered last week and 200.53 points recorded during the week ending July 6, 2023.
Fahad Rauf, head of research at Ismail Iqbal Securities, said that SPI went up mainly due to food inflation — particularly higher wheat flour and milk prices.
"The government is looking to import wheat to meet demand and bring down the prices," he said, adding that the prices of perishables, mainly tomatoes, increased because of Eid ul Adha.
PBS compiles SPI via collecting prices of 51 essential items from 50 markets in 17 cities of the country.
During the week, out of 51 items, prices of 27 items (47.06%) increased, 10 (19.62%) items decreased and prices of 17 (33.33%) items remained unchanged.
Different weightage is assigned to various commodities in the SPI basket.
Commodities with the highest weights for the lowest quintile include milk (17.5449%), electricity (8.3627%), wheat flour (6.1372%), sugar (5.1148%), firewood (5.0183%), long cloth (4.2221%), and vegetable ghee (3.2833%).
Of these commodities, the price of milk, wheat flour, sugar, and long cloth went up; vegetable ghee decreased, whereas prices of electricity and firewood remained unchanged.
The price of a 20kg wheat flour bag now stands at Rs2,746.36, which is up from Rs2,639.51 per bag in the week before Eid.
PBS did not issue data during the week ending June 29, 2023, due to Eid ul Adha holidays.
Residents of Karachi are paying the most for a wheat flour bag, which is sold for anywhere between Rs150-190 per kg in different markets of the city.
Although the official data shows the average price in the city at Rs2,957.16, it is higher by Rs210.80 from the national average.
During the week ending June 22, 2023, the average price of a 20kg bag was Rs2,639.51, while in the preceding week, the price was Rs2,514.99.
A retail shop owner in Karachi said he was selling wheat flour for Rs160-170 per kg, depending on the quality.
"If someone is selling wheat flour for more than Rs170, they are stealing from the customers," he said.
A city-wise breakdown of the PBS price statistics showed that last week, the commodity proved to be the most expensive for Islamabad after Karachi, at Rs2,933.29 per bag.
Among other cities, from the highest price to lowest, Rawalpindi residents paid Rs2,924.41 per bag; Hyderabad residents paid Rs2,879.98; Sialkot Rs2,800; Sukkur Rs2,760.60; Gujranwala and Sargodha Rs2,733; Lahore Rs2,730.84; Larkana Rs2,726; Peshawar Rs2,720.80; Multan Rs2,704.86; Quetta Rs2,689.99; Faisalabad Rs2,632.91; Khuzdar and Bahawalpur Rs2,600; and Bannu residents paid Rs2,599.68, which was the lowest in all 17 urban centres.
The YoY trend depicts an increase of 28.55%, on account of rising prices of wheat flour (121.69%), cigarettes (112.94%), gas charges for Q1 (108.38%), tea (102.86%), broken basmati rice (77.40%), rice irri-6/9 (74.61%), potatoes (69.06%), chicken (63.22%), gents sponge chappal (58.05%), powdered salt (51.61%), sugar (50.08%), bananas (48.96%) and bread (46.86%).