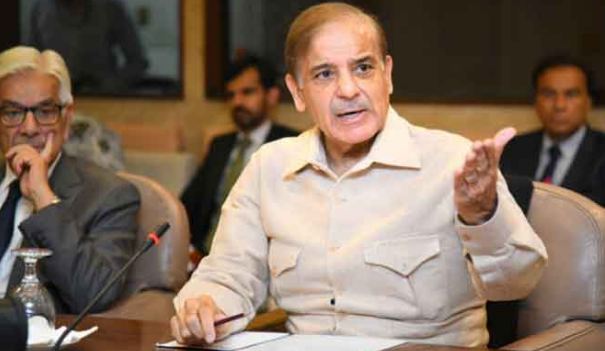 LAHORE: A day after Pakistan Tehreek-e-Insaf's (PTI) announcement of its nominees for the interim chief minister of Punjab, Prime Minister Shehbaz Sharif has summoned a consultative meeting to discuss the political strategy and names proposed by CM Parvez Elahi.
The premier will chair the huddle at his Model Town residence in the provincial capital.
Top leaders of Pakistan Muslim League-Nawaz (PML-N) including federal ministers Ishaq Dar, Ahsan Iqbal, Khawaja Saad Rafique, Azam Nazeer Tarar, Malik Ahmed Khan, and Ata Tarar attended the meeting among others.
The meeting is likely to discuss the names proposed by PTI for the caretaker chief minister and finalise the opposition's nominees for the top slot.
On Sunday, Parvez Elahi said that Ahmad Nawaz Sukhera, Muhammad Naseer Khan, and Nasir Saeed Khosa have been finalised for Punjab's caretaker CM after approval from PTI Chairman Imran Khan.
It is likely that one of the three names would be finalised, he claimed.
The provincial chief executive further said on his official Twitter handle, "We are sending these names to the [Punjab] governor and if the opposition thinks broadly, the agreement upon the suggested names seems likely."
When CM Elahi, earlier this week, issued a notification for the dissolution of the Punjab Assembly, the house dissolved after 48 hours as the governor didn't sign the summer sent by the former.
Elahi will remain to serve as the Punjab CM until the name for the caretaker CM is finalised.
He went on to say that on Monday (today) in a consultative meeting, further discussion would be held on the suggested names.
While focusing on media reports of a possible merger of two allies parties, Elahi said: "Imran Khan has asked [Pakistan Muslim League-Quaid] to merge in the PTI."
He added that Moonis Elahi also "thinks that we should merge" with the former ruling party.