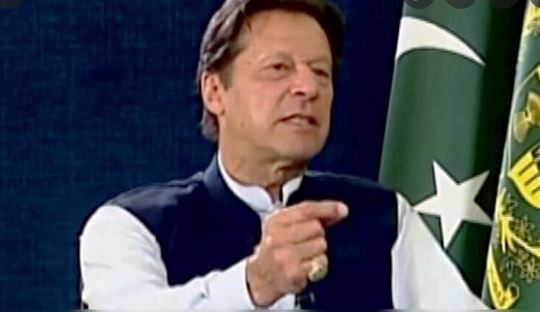 DNA
Says US not happy with Pakistan's independent foreign policy 
ISLAMABAD: Pakistan Tehreek-e-Insaf (PTI) Chairman Imran Khan made it clear that he knew all the characters behind his government's ouster and he would not keep silent anymore and would disclose everything if he was harassed and pushed to the wall.
Addressing the people via a live telecast here from his residence Bani Gala on Tuesday, Imran Khan said that he recorded video, which he kept at secret place; wherein he named each and every character and their role in the toppling the PTI government.
Imran Khan disclosed that he was well-aware about the conspirators and abettors and how the plot executed but he just wanted to inform his nation that he kept silent because he did not want to inflict harm to his country.
However, PTI chairman warned that if he was pushed to the wall and harassed, he would leave with no option but would spill beans and would speak the truth before the nation.
PTI chairman said the current self-centered rulers would not refrain from recognizing Israel and compromising on the blood of Kashmiri people to make friendship with India for their own vested interests because they had nothing to do with the ideology of Pakistan as their sole purpose to rule the country to mint money.
Imran Khan said that on July 5, the country's first elected government was de-seated and martial law was imposed, because the US was not happy with Zulfiqar Ali Bhutto who wanted to pursue an independent foreign policy of Pakistan.
However, he lamented that today, those people were imposed who were facing billions of corruption cases, adding that PTI government was toppled when everything was moving quite smoothly as economy was flourishing.
He said that these cable of crooks, who seized the power by securing NRO-2, open a flood gate of inflation of the masses, adding that the people would reject these conspirators.
Condemning the attacks and registering FIRs against journalists and social media activists who were speaking against the imported regime, Imran Khan said that this was the era of social media where every person has a voice through a mobile device, which could not be muzzled through intimidations and threats.
He said that journalists like Ayaz Amir, Arshad Sharif, Imran Riaz Khan, and others could not be bought as they listen to the voice of their conscience.
He said Sabir Shakir, who has been in journalism for two decades, left the country, adding that the imported regime is also after Jameel Farooqui, Moeed Pirzada and Sami Ibrahim.
He asked the judiciary if the fundamental rights have been suspended in Pakistan or the martial law had been imposed, adding that he never seen such a fascism in Pakistan.
He questioned why the case regarding the legitimacy of Hamza Shahbaz as the chief minister of Punjab was adjudicated for two months, as in our time, the courts opened at night.
He claimed the country is being deliberately driven towards anarchy, adding that the 'fascist regime' tried to spread fear among the people, urging the people to break the 'idol of fear' as it is now or never.
Speaking on the upcoming by-elections in Punjab, he claimed that the Punjab administration was leaving no stone unturned to ensure PML-N's victory; however he vowed that PTI would inflict punching defeat on these crooks despite all odds.