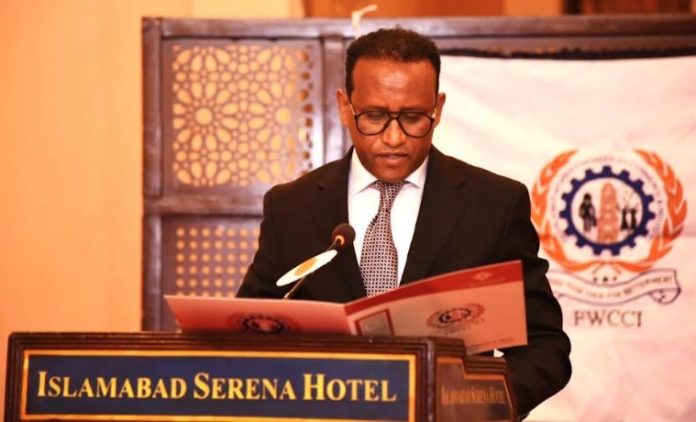 Ambassador Extraordinary and Plenipotentiary of Ethiopia to Pakistan Jemel Beker says women have huge potential to work in different sectors
DNA
ISLAMABAD: As the first ever Ethiopian Ambassador to Pakistan, it is an honor for me to represent the Government Ethiopian at such a significant event of Pakistan Export-Women led business Conference held in Islamabad on 18 September 2022. Those of you who do not know Ethiopia, Ethiopia the third diplomatic center in the world, HQ for Africa Union, UNCECA. It is the land of origin, human fossil Lucy 3.2 million years of age which is the complete human fossil, Coffee, and a source of Nile, longest river in the world. And it is a land of Bilal Al-Habash, late King Nejash, first hijira to Ethiopia where we are connected with other Abrahamic Religions as well.
The ambassador expressed these views while speaking on the occasion of a seminar arranged by Faisalabad women chamber of commerce and industry.
He added he would like to thank you for this opportunity to share his leadership experiences with you. He congratulated the Faisalabad Women Chamber of Commerce and Industry (FWCCI),and its President Mrs. Nighat Shahid for taking this initiative on basically introducing Pakistan export potentials- women led business and investment opportunities in Pakistan to the rest of the world.
Economic, education, skills, and knowledge empowerment of women is very important and linked to economic and social transformation and development of any country. AS Bringham Young said: when you educate a man, you educate a man, when you educate a woman, you educate the generation. In the same token when you empower women you empower the society, and the nations. My country since Dr. Abiy Ahmed took the Premiership of the Federal Democratic Republic of Ethiopia in which half of the cabinets are women, and 50 percent of the parliament are also women.
The Ambassador said, women have huge potential to work in different sectors of the economy including trade and investment, governance, and leadership. Many of the most significant and meaningful moments during my Ambassadorship will devote on issues that affect women and girls and I am proud of all that our Embassy team will be able to accomplish, especially when it comes to having important discussions like we will have today.
'Woman empowerment is a life-time priority for me that I take it very seriously. Strong girls, and strong women are critical to success of our societies and nations and a key to sustainable development. Leadership and mentoring women has always been a top priority for me. As I reflect on my career where I serve as a program coordinator for women affairs long time back and my today's successes were built on that service'.
Obviously, the exchange of information and ideas during this conference will help you all better understand Pakistan's potential and, I hope, result in new and profitable export deals. I am confident that women led business will continue to grow and that the Pakistan export sector will continue to revive, survive, and thrive in the time to come. Ethiopia has been and will continue to be a committed partner in the development of Pakistani export sector its Chamber of Commerce and Industry starting from now onwards.
Ambassador Jemel said his country Ethiopia saw Pakistan as a preferred partner and was keen to expand trade, business, investment, and tourism relations. In actual fact, our business and economic relations have not been adequately developed and in this regard, I leave no stone unturned to change this scenario. We have observed that very few items are being traded between Ethiopia and Pakistan for the last many years. The main reason of such a low level of two way trade were due to little knowledge about each other's markets and lack of relationships. Indeed, this gathering can be considered as a window of opportunity for Pakistani Women export entrepreneurs to harness huge, availed prospects.
To this end, one of the major priorities of our Embassy would be to link the Ethiopian chamber of Commerce and Sectoral Associations with Pakistani Chamber of Commerce and Industry, sign a memorandum of understanding which its implementation would help increase bilateral trade, business to business and people to people cooperation. In collaboration with the responsible Pakistan government institutions, and as well as chambers like you, the Embassy will work diligently for exchange of trade delegations between the two countries, and I assure you, I myself would bring a delegation of Ethiopian businesspeople to Pakistan Faisalabad soon.
'Over the last four years, my country has embarked on an ambitious roadmap of economic reforms aimed at energizing private sector growth, attracting greater FDI, and stimulating the country's nascent knowledge economy through deep and penetrating reform. To this end, it developed home-grown economic reform that have already had a significant impact on the business and investment environment in Ethiopia – an environment, which we believe is more fertile than ever for foreign investment'.
He said many of the Pakistani companies here today are all well placed to benefit from the possibilities opening up in a country that is truly a Lion of Africa and economically set to roar on the world stage. Yes, there are challenges which need to be resolved. Yes, you need patience and a long-term approach. But for many companies with a global vision, Ethiopia is a huge and growing market which you should not and cannot ignore.
He disclosed that Ethiopia Airlines, the biggest airlines in Africa that has more than 127 international destinations was going to fly to the sky of Pakistan soon. Indeed, the commencement of Ethiopia Airline will boost the trade, investment and tourism between Ethiopia and Pakistan the rest of Africa as well the globe.
Ambassador Jemel added, Ethiopia offered tremendous potential, and we look forward to working with the government and people of Pakistan. The next stage requires solid partnership with the private sector to develop its manufacturing sector, boost exports and increase employment.
'Finally, I would like to express my deepest sympathy and condolences to families, friends, and relatives who have lost loved once precious lives during this climate led floods and calamities unfolded upon Pakistan due to international wrongdoing but, Pakistan became zero ground. Indeed, we share the pain and stand in solidarity with you to rebuild and heal the wound of climate crisis', he concluded.