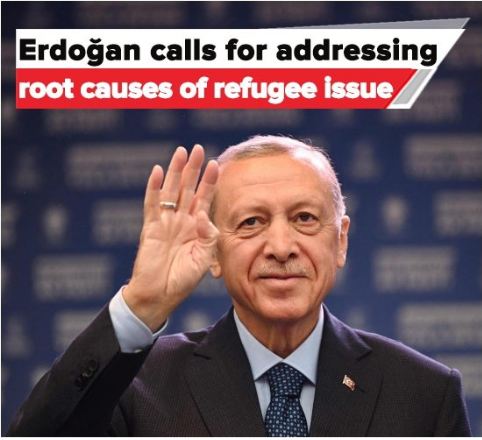 ANKARA, JUN 20: In his message released on the occasion of World Refugee Day, President Recep Tayyip Erdoğan emphasized Türkiye's commitment to fulfilling its humanitarian and neighbourly duty, supporting the safe and voluntary return of refugees to their homelands, and implementing necessary projects for this purpose.
The Turkish leader acknowledged the various reasons, such as terrorism, conflict, civil war, hunger, and famine, that force people to migrate, leading to a global challenge with approximately 110 million displaced individuals, including refugees and internally displaced persons.
Erdoğan emphasized that Ankara's approach to irregular migration and refugees aims to protect human life, dignity, and the security of the country.
He highlighted Türkiye's historical tradition of standing by those fleeing persecution and emphasized the conscientious stance in addressing regional crises, from Syria to Ukraine.
Erdoğan denounced hate speech, Neo-Nazi ideology, Islamophobia, and xenophobia against refugees, viewing them as a threat to human values and the collective future of humanity.
Erdoğan pointed out the influence of an arrogant mentality rooted in colonialism, which has contributed to the tragic loss of innocent lives in the Mediterranean, turning it into a massive graveyard for refugees.
He called on the international community, particularly countries that promote human rights and democracy, to take responsibility.
Erdoğan stressed that resolving the refugee issue requires addressing the root causes of migration and forced displacement.
He emphasized the importance of the successful implementation of the Global Compact on Refugees, adopted in December 2018 with Turkiye's active contribution, and called for increased efforts in its implementation and compliance.
In conclusion, President Erdoğan expressed hope that World Refugee Day would raise global awareness, prevent further tragedies, and contribute to finding solutions for all refugees struggling to survive in different parts of the world.