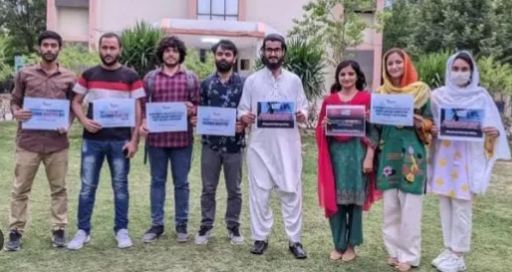 ISLAMABAD, Jul 15 (DNA): Youth Forum for Kashmir – YFK-International
Kashmir Lobby group – has expressed solidarity with the people of Indian
illegally occupied Jammu and Kashmir in their just freedom struggle on
the Kashmir Martyrs' Day, today, the 13th July.
The YFK in a statement issued in Islamabad, today, said the 13th July is
a remarkable day in the history of IIOJK's struggle for freedom, also
known as Youm-e-Shuhada-e-Kashmir, as it signifies the political
awakening of the Kashmiris.
It said that ninety-three years back on this day, a vast crowd gathered
for the court proceedings of Abdul Qadeer, a man who challenged the
undesirable, tormenting rule of Hari Singh.
"They assembled to show solidarity against Dogra. The time for Zohar's
prayer began; a man stood up and started the call for prayer but was
shot down by the treacherous guards of Dogra. Another man stood up and
continued with the call (Azaan) but met the same end. Nevertheless, it
could not lessen the courage of the crowd. Another man stood up and
continued from where the former left. Twenty-two men were martyred
merely for their religious obligations. Such was the level of cruelty
and insanity," it said.
The FKF said it is not the only incident; the history of IIOJK is filled
with meritorious sacrifices of Kashmiris. They have been grinding under
tyrannous, unwanted, and undemocratic rulers for almost a century, it
said. "The people of this heavenly place, Kashmir, live a hellish life.
However, they are far more courageous than the cruelty of their savage
rulers," it added.
The statement said, on this remarkable day, the YFK stands with the
people of IIOJK and salutes their longstanding struggle for the
righteous cause, i.e., freedom from undemocratic rulers.
"We appeal to the international community to help them achieve their
long-desired freedom. Do not let their sacrifices go in vain. Even
though they are willing to fight with every single drop of blood that
runs through their veins, they are as human as anyone else. For those
living in peace, it is a responsibility to stand with them," it added.