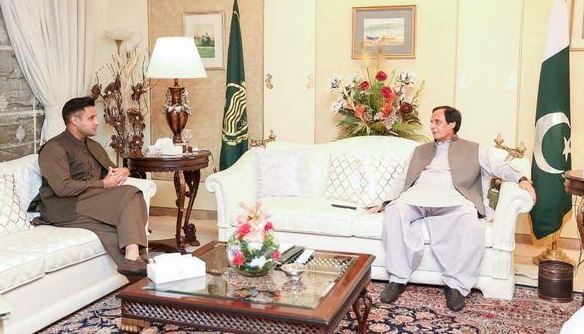 By Faisal Munir / DNA
ISLAMABAD: Former Special Assistant to Prime Minister on Overseas
Pakistanis and Senior leader of Pakistan Tehreek-e-Insaf Syed Zulfi
Bukhari meets Chief Minister Punjab Chaudhary Pervez Elahi in Punjab
house, matters of mutual interest, political situation, measures for
rehabilitation of flood victims were discussed during the meeting.
Mons Ilahi was also present.
The meeting also discussed solutions to the problems of Pakistanis
living abroad. Tehreek-e-Insaf leader Zulfi Bukhari appreciated the
efforts being made by the Punjab government under the leadership of
Chief Minister Chaudhary Pervez Elahi to help the flood victims.
On this occasion, Zulfi Bukhari told the Chief Minister of Punjab that
under your leadership the Punjab government is engaged in helping the
brothers and sisters in distress, you first reached the flood victims
of Rajanpur, Taunsa, DG Khan.
Zulfi Bukhari informed the Chief Minister of Punjab about the problems
faced by the people of his NA-50 constituency. In particular, the
repair and construction of highways, provision of facilities in
government hospitals, lack of doctors, Rescue 1122, Trauma centers,
ADP, completion of construction works in hospitals and schools as soon
as possible are detailed on other important issues.
He told the Chief Minister of Punjab that his constituency has
suffered extreme backwardness due to lack of attention for the past
several decades. So to reduce the hardships of the people And there is
a dire need to take effective measures in the current government to
make their lives easier. Zulfi Bukhari also apprised the Chief
Minister Punjab about the public concerns regarding the separation of
parts of Tehsil Pindi Gheb. On which it was assured that there will be
no harm to Attock. On which Zulfi Bukhari thanked CM Punjab. In
addition to the public issues of NA-50 constituency and the political
situation of the country,
Punjab Chief Minister Chaudhry Pervez Elahi said that political and
administrative teams are in the fray to help the flood victims, the
Punjab cabinet will give one month's salary to the Chief Minister's
Flood Relief Fund. Pakistan Army under the leadership of Army Chief
General Qamar Javed Bajwa said that once Then moving forward in the
path of helping the victims.