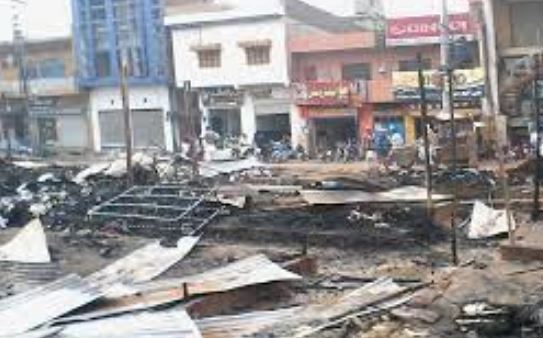 As reports suggest fire broke out due to some short circuit
Gulzar Noshi
LALAMUSA, A huge fire destroyed Lunda Bazaar in Lalamusa burning over 100 shops and more than 200 garments stalls and carts on Friday. The bazaar is located on the edge of the Grand Trunk (GT) Road. As reports suggest fire broke out due to some short circuit.

The blaze which broke out on Thursday night was extinguished after more than three hours.
According to Rescue officials, the fire engulfed the whole Bazaar in a flash. The firefighters have been able to douse the fire in 70 percent of the Bazaar and the rest will also be extinguished soon, the spokesman added.

The shocked shopkeepers said that the loss from the fire runs into millions. It may be mentioned here that the same Lunda Bazaar was destroyed in a fire some time back. Two weeks ago, a major fire also flattened the Lunda Bazaar of Dinga town of Tehsil Kharian.