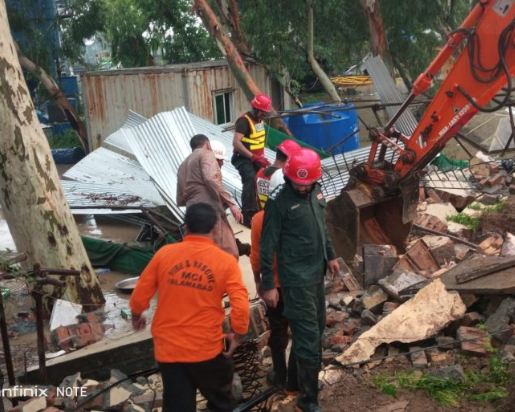 Khayam Abbasi
ISLAMABAD: /DNA/ – A devastating incident took place on Wednesday as heavy rainfall in the city resulted in the collapse of a building's wall on Peshawar Road, claiming the lives of at least 11 people and leaving six others injured.
The victims were primarily laborers, and rescue teams worked tirelessly to recover their bodies from the rubble, employing heavy machinery to aid in the process. The deceased were promptly transported to the Pakistan Institute of Medical Sciences (PIMS) for further proceedings.
Fortunately, the injured were quickly attended to, and all six individuals were out of danger, receiving medical care at the same hospital.
Upon receiving the alert about the incident, the police promptly arrived at the scene to coordinate the rescue efforts. A thorough operation was conducted to locate and extract individuals who were trapped in the debris.
The tragic incident was attributed to the collapse of a building's wall, which fell upon a tent placed by the laborers who were working on the construction of an underpass.
As a precautionary measure, the authorities at PIMS have put all doctors and paramedical staff on high alert to deal with any emergency during rain.
In a separate and equally heartbreaking incident, an 11-year-old girl lost her life in another wall collapse in Mohammadi Town, under the jurisdiction of Khana Police Station in Islamabad.