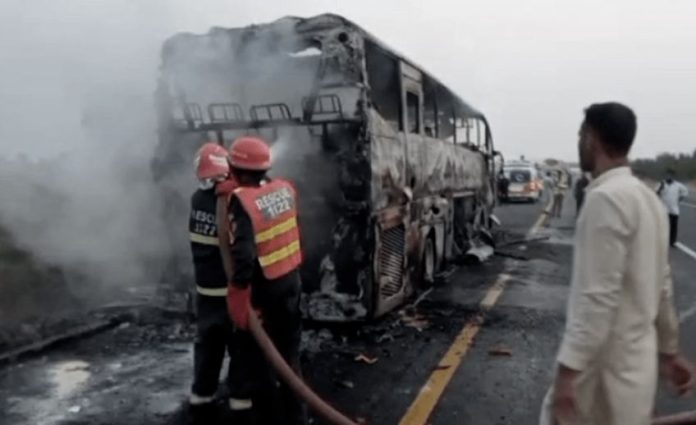 Pindi Bhattian: At least 16 people were killed on Sunday after an passenger bus caught fire after colliding with a pick-up laden with drums of diesel on the motorway near Pindi Bhattian.
Hafizabad District Police Officer (DPO) Dr Fahad Ahmad told Dawn.com that the passenger bus was headed to Islamabad from Karachi, adding that the accident occurred at 4:30am.
The DPO said that the passenger bus had collided with the pick-up truck, which caused the former to burst into flames. He said that the drivers of both vehicles were killed in the accident.
He said that the seriously injured, some of whom were critical, were being shifted to a hospital in Faisalabad.
A statement issued by the National Highways and Motorway Police (NHMP) said that timely action was taken and 15 passengers were safely evacuated. The dead and injured passengers were shifted to the hospital, it said.
NHMP further said that Inspector General Sultan Ali Khawaja also visited the scene of the accident and oversaw relief work. He also expressed grief over the lives lost in the accident.
A separate statement issued by the NHMP spokesperson quoted IG Khawaja as saying that an inquiry had been initiated. "According to initial investigations, the accident occurred due to the bus driver's negligence," he said.
The IG further said that the relevant commander and night patrolling officer had been suspended. "Strict action will be taken against those responsible for the accident," he said.
The NHMP statement also quoted Deputy Inspector General (DIG) Muhammad Saleem as saying that an inquiry committee had been formed to take departmental action. "The inquiry committee will submit its report in 24 hours," the DIG said.
Separately, an official statement issued by Edhi said that officials were facing difficulty in identifying the dead bodies due to the extent of their burns. It said that identifying the bodies would only be possible after conducting a DNA test.
Meanwhile, Radio Pakistan said that Interim Information Minister Murtaza Solangi expressed sorrow over the bus accident. He stressed the need to determine the reasons behind the accident in order to avoid the same in the future.
The minister also prayed for those killed in the accident.