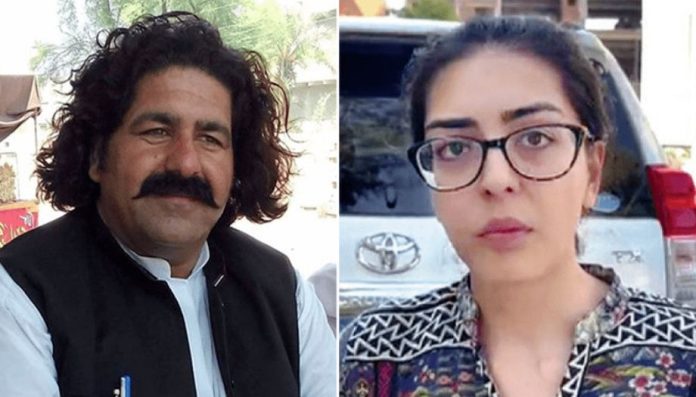 ISLAMABAD, AUG 20: The Islamabad Capital Police on Sunday said that human rights lawyer Imaan Zainab Mazari-Hazir and former lawmaker Ali Wazir were arrested "for investigation" hours after the activist posted on social media platform X that unidentified people were breaking into her home.
"Islamabad Capital Police has arrested Ali Wazir and Imaan Mazari," the police said on X (formerly Twitter). "Both suspects were wanted by the Islamabad Police for investigation. All action will be taken in accordance with law."
The police did not specify what case they were investigating the human rights lawyer and the lawmaker from South Waziristan in.
It added that the news issued by the public relations department of the Islamabad Capital Police should be accepted as correct. "No one is authorised to give a statement from a police station."
The development comes after Imaan posted on X in the early hours of Sunday that "unknown persons breaking down my home cameras banging gate jumped over".
About an hour later, her mother, former PTI leader Shireen Mazari, posted that "policewomen, plainclothes people and r ager (sic) types took my daughter away after breaking down our front door".
"We asked who they had come for and they just dragged Imaan out. They marched all over the house," Shireen said. The former human rights minister said her daughter was in her sleeping clothes and asked to change but "they dragged her away".
"Of course no warrants or any legal procedure. State fascism. Remember we are only two women living in the house. This is an abduction," she said.
Speaking to the media outside a district and sessions court, Shireen said that officials scaled the gate of her home, beat up her guard and locked him inside his cabin. She said that officials also seized the guard's phone and his gun, and then broke down their front door.
Shireen said that they then began to bang on her bedroom door. "As soon as we opened the door, they dragged Imaan and took her away. Police women were also trying to drag me outside," she said.
The ex-minister said she then asked the officials whether they were here to arrest both her and Imaan, to which a man in plainclothes gestured to the other to let Shireen go.
Shireen said that officials asked her to point out Imaan's bedroom as they needed her laptop and phone. "Twenty men went upstairs. They found the room, turned it upside down and seized her laptop and cellphone."
She said that a policewoman also told her to surrender her own phone which she did. She said that Imaan was willing to go with the police officials but asked to change her clothes. "They said there is no need and dragged her away."
She said that 20 people entered their home while more officials were standing outside. "There were six female officers that I saw but there was no male wearing the blue uniform of Islamabad Police," she said.
'Highly condemnable'
The arrest triggered an outpouring of condemnation from rights groups, journalists and activists.
The National Commission for Human Rights said it was concerned by the arrest of lawyer and human rights defender Imaan Mazari. "Late night arrests without warrants as reported by her mother are in violation of due process of law and serve to harrass & spread fear amongst citizens," it said on X.
The Human Rights Commission of Pakistan (HRCP) strongly condemned the arrest.
"The manner in which the Islamabad Police broke into her home, allegedly without a warrant, is unacceptable and points to a larger, more worrying pattern of state-sanctioned violence against people exercising their right to freedom of expression and assembly," it said in a post on X, calling for the lawyer's release.
PTI also condemned the "break in" into Imaan and Shireen's home.
"These unlawful actions keep violating the basic human rights of people of Pakistan, especially those of our women. Clearly, rule of law is completely non-existent. These abductions, raids must be stopped immediately," the party said, calling on the higher judiciary to intervene.
"Without rule of law, unfortunately our country can never progress," the party said.
Digital rights activist and human rights lawyer Nighat Dad asked on what basis Imaan was arrested. She noted that Imaan had been raising her voice "for the voiceless inside and outside the courts of law".
"Breaking into her house and room and dragging her away is highly condemnable," Dad said.
Journalist Asma Shirazi also condemned Imaan's arrest and expressed the hope that Caretaker Prime Minister Anwaarul Haq Kakar would take notice.
Academic Nida Kirmani hoped that Imaan was safe and called on people to "raise their voices to demand her immediate release".